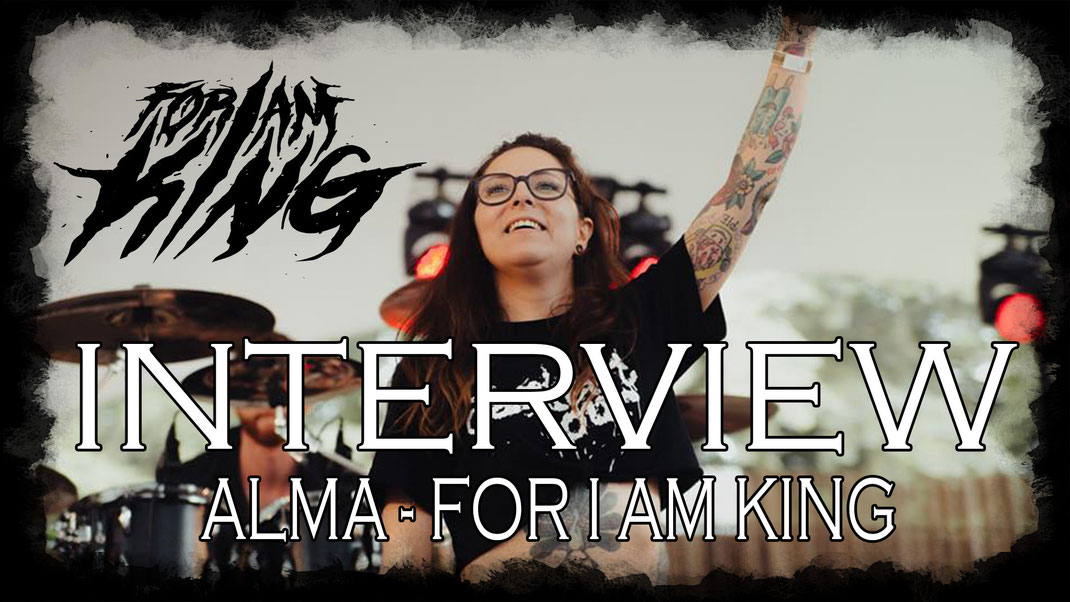 D: Hi Alma, first of all thank you for taking the time for this short interview. How are you and how was your European tour?
Alma: Hi Daniel, thank you for this interview. I am doing fine and still going haha we had a show yesterday in Nijmegen and it was insane! Tonight we are playing a hometown show (at least for me and Jurgen-bassplayer) in Gouda Cheese City ;)
---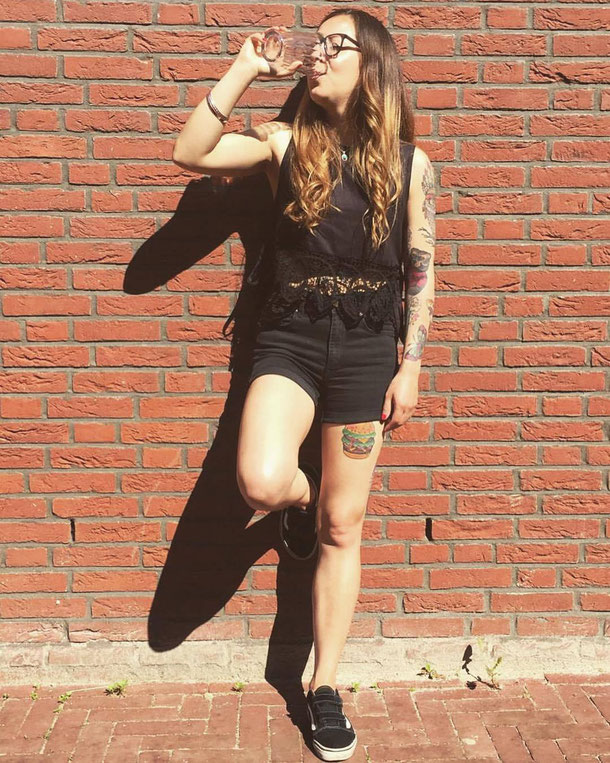 D: How many dates did you play on that tour and which countries did you hit?
Alma: To promote our new album 'I' we decided to start with focusing on NL and Germany, we played 5 shows in Germany which were crazy, you Germans are awesome! And we are doing our Dutch Club-tour as we speak.
D: Do you have some cool memories from this one you want to share? Maybe one from each country and the differences you experienced between them?
Alma: Germany feels definitely like home, I think all the shows we've played shows us that we have to play often in Germany, we have loyal fans here and there is always a great energy playing in your country. A cool memory will be playing with our label mates Of Colours, it was the first time meeting them, and we had a great click right away. Awesome band, cute people!
D: You are supporting your album "I" with this tour. As you have seen I rated it 9 /10 in my review. I guess this was satisfying for you all and it is really a great record. How were the reactions from other press articles and especially from the fans?
Alma: Yeah!! Thank you so much, it was definitely satisfying! Nothing but love for everyone who took the time to listen to our baby. We have worked very hard for this album and it was a new but very nice experience to write a personal album and i think we all can say that we are happy with 'I' and we are very proud of all the great reviews.
---
D: What would you say is the biggest difference to your first album and what was difference in recording/writing process?
Alma: The biggest difference will be that we chose to go more personal with the theme, lyrics etc. The difference in recording will be that we took more time to write this album and we worked with a producer (Andy from Any Given Day).
D: I think you have a special vocal style. I always thought on the record you used a lot of vocal layers to get a little demonic effect in your voice. Is it like that for the record or is this just a very special technic you are using?
Alma: Live I don't use any effects but with the recordings we wanted to create more dynamics so we layered some parts of my vocals.
D: When did you actually start singing like that and what were your influences you would say?
Alma: The way I scream right now I would say 5 years but I use to scream in other bands and that will be more than 10 years now. My biggest influence will be John Henry from Darkest Hour, not only for his awesome screams but i do love his way of attitude. And I got inspired to scream when I saw Walls of Jericho.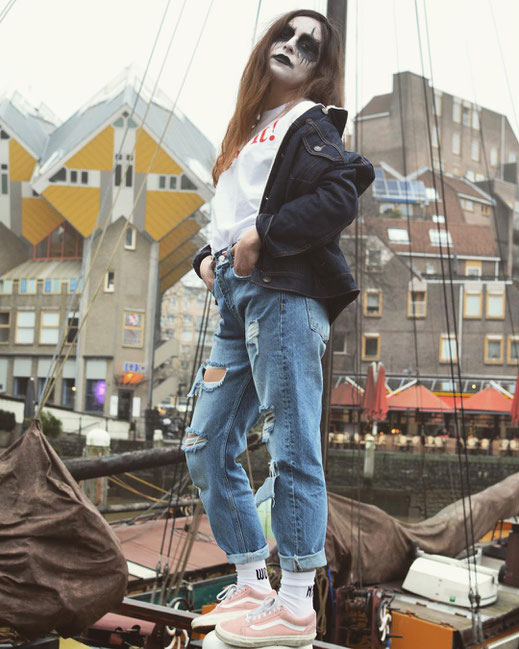 ---
---
D: Did you always know that you wanted to do this since you started listening to extreme music or did that came accidently?
Alma: Yes I did.
D: On Spotify you have a nice explanation of the name "I" of the album. Can you explain that a little more detailed for the readers and why you chose this name? Also what does this mean for you?
Alma: We wanted to go more personal with this album and I think 'I' is the perfect title, for me personal it means that I will be always responsible for myself. 
---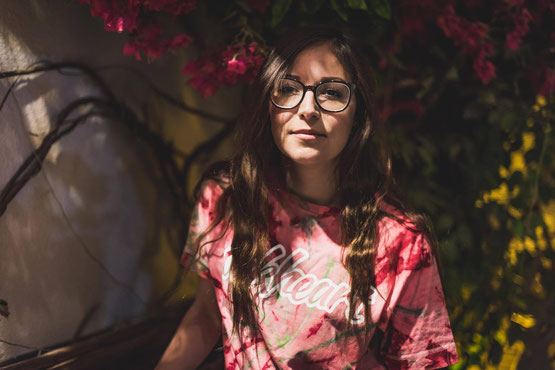 D: Do you write the most lyrics for the band and what influences you for writing?
Alma: Jurgen and I wrote all the lyrics on 'I' together and we wanted to write more about the things that are happening close to us, like 'Misery', this is about depression, we know that this is happening more often around us than we realize and I think it is importent to make sure that people keep on talking about this issue. We all have demons and we should not fight them alone.
D: What can we expect for 2019 from you guys? More extended touring? Sadly I couldn't catch you up on your tour in march.
Alma: Yeah this year is all about playing shows! We are looking forward to be back in Germany and play WOA!
---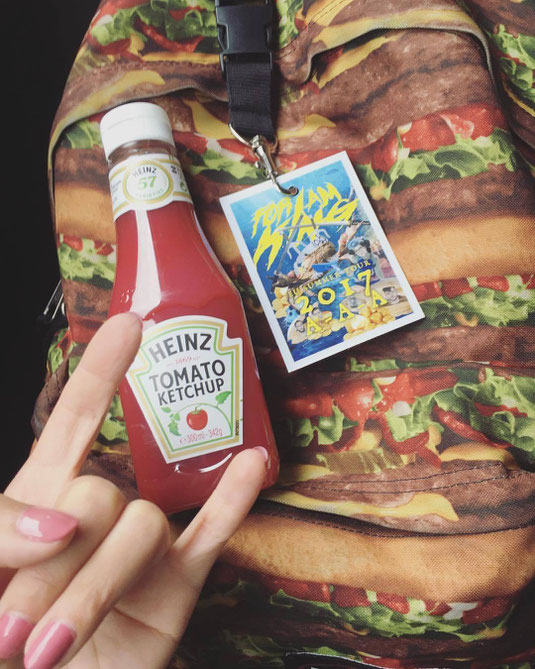 D: You did also a lot of music videos for the album to support. Would you say this helped you a lot and who did those film? Was it all DIY organized?
Alma: Yes we did and I think this helped us for sure to reach more people, we worked together with our good friend Bart Sperling and we also did a video with Sebastiaan Spijker. The whole organization was DIY.
D: Last question, what is the Thing with the Ketchup and you? I just saw that online. Is there any cool insider story you can tell us?
Alma: There is no other ketchup than HEINZ. ;)
D: Thank you very much again for being part of my musical journey here @ my BLOG. Last words are on you, anything you want to share?
Alma: Thank you so much and hope to see u all at one of our shows! Cheers!
---
---
Prey
---
Devotion