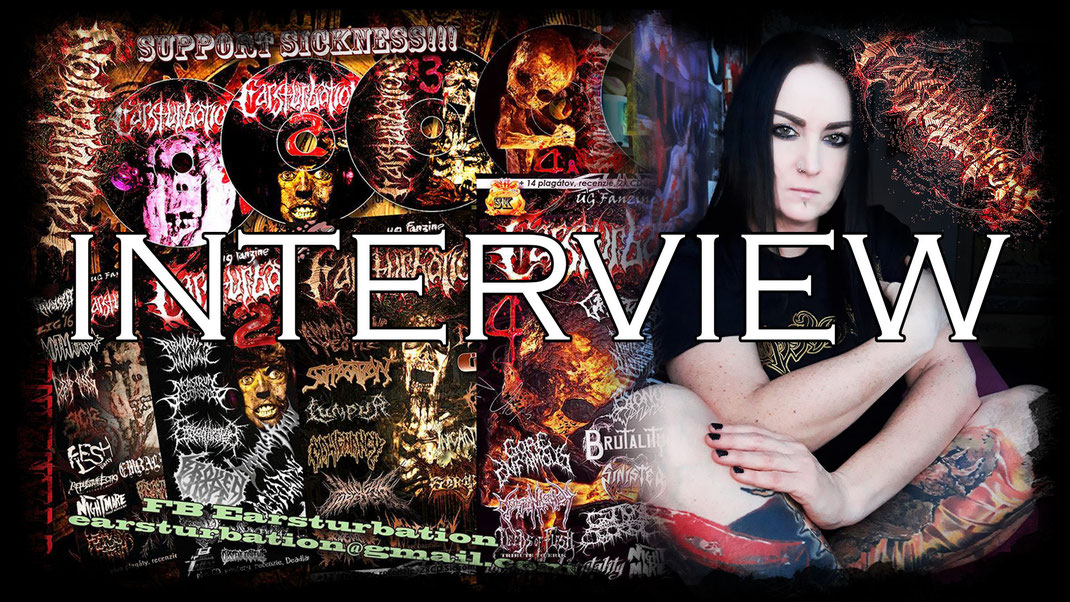 D: Hi Moni,
First of all thank you for taking the time to sit down and answer some questions for my online blog. I think we have the same passion for supporting the underground and music we love.
When did you start getting into the extreme music scene or listening to it. Can you remember and with which bands did you start?
Moni: Hi Dani, thank you for this interview, which is my first in English, of course, with the help of a translator. With extreme music I met quite late, which means at the beginning of middle school, where started to roll on me classics like CANNIBAL CORPSE, KRABATHOR, DEICIDE, DEATH... until then I had no idea about this type of music.
---
D: When did you have the first thoughts of starting an underground magazine? Was the name Earsturbation longer in your head before you started?
Moni: More than 20 years ago I was approached by home UG fanzine Loss of Sanity to write reviews and some years later I started to help with our legendary fanzine Hyberned Children´s Dreams, after its death I wrote about 3 years for Slovak Rock Hard and supplied there extreme music, but it wasn't "the same", and some of my friends provoked me to start making my own zine and I don't know how they knew I would be able to do it, because I didn't believe it at all!
D: Did you know how to start with it? I am a DIY man by myself and doing everything on my own. So I can think of that it is really hard to start something like this without a big bunch of helpers behind you?
Moni: My graphic skills were at zero and also my English, I still use translator, not to mention about mixing songs on Sickompilations. I had a few titles in my head and when Earsturbation came, I was still hesitating to call it a review section, or I would have the audacity to call my whole zine... and it didn't let me go. It was extreme, outrageous, and it didn't have a clear translation, and that's what I needed. Of course, without friends who already had experiences with making fanzines, my start wouldn't be possible. I took a superfast graphical course, friend installed me a graphic program and tossed me to "swim". When I left the place, I had only chaos and no knowledge in my head. So practice practice practice... and one of my most powerful starters came in the form of a logo from Jon Zig, it was strong motivation to be strong and not to give up on everything.
---
D: In the meantime I think I saw in the magazine that your family and some friends are helping you out, right? Is this a big hold back for you to continue?
Moni: Without my family, I wouldn't have been able to pay the first number (or more precisely no number) and also without my brother's brain that was saving programs from my Neanderthal attacks. Till now, everyone is helping me with sending shipments when I go to work in the Netherlands. They are my strong support, although the end of the Earsturbation would be rather salvation for them.
D: I think you had the same experiences over the years by visiting a lot of fests and shows that the scene is so small and you get easy along with bands by some drinks. Did your connections or let's call it "Death Network" helped you a lot to get material together?
Moni: I am a devoted fan of extreme music from my first contact with it and despite I am very shy, for all these years, I know countless musicians, bands, fans, show organizers, labels... and I really like to use all my knowledges and contacts from the past, I think, that it is seen. I never made a live interview in my life, everything is in old school on the keyboard. I'd rather enjoy beers live together and we'll be fooling around.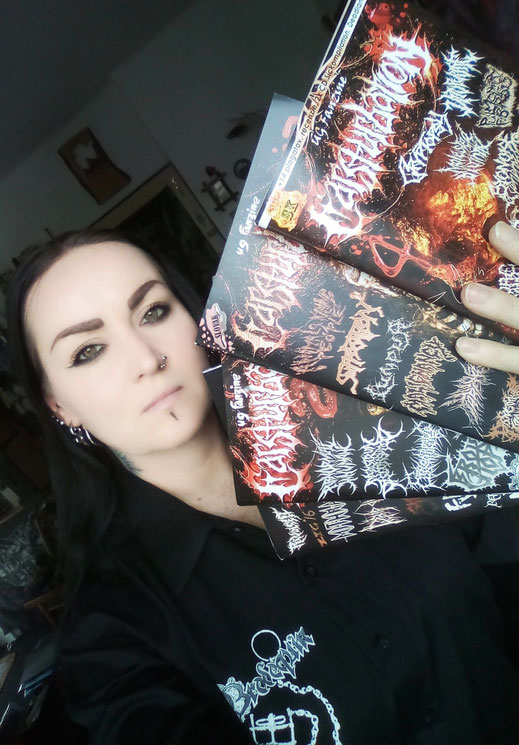 ---
D: I am facing the issue that for interviews and stuff I have to remind people a lot to finally do it, haha. (Sergio (Epicardiectomy) I am looking in your way brother! :P) Did you have same problems collecting material?
Moni: Of course, there are people who are very busy with music or expressly annoyed by our efforts to support their band in a different ways than just going to their shows and to buy their merch... I don't blame anyone, you just need to know where the boundary is, doesn´t make sense to cross it. I don't feel like a journalist, that's not where I feel good. I am an eternal fan, my zin is my hobby and my destruction, where all my savings are falling and when I see the bands don´t want this kind of support, there is no need to destroy the friendships that have worked so well so far. Rather I will stop to bother them and when eg. there will be an opportunity to meet in person, I may ask once again or let it go.
D: Did the content of the magazin came naturally by your mind or did you create a concept first or took some ideas from other magazines?
Moni: Many inspirations come from the aforementioned Hyberned Chilren's Dreams horrid'zine, part of which was an art supplement, we published horror stories and interviews with artists who sometimes had nothing to do with music, but were part of extremity with their dark visions. The point of Earsturbation is to put myself there. That's why there is darkness, history, beer and extreme music. That's my whole world. I have met many times with the title that Earsturbation is the best extreme fanzine in the world... these are strong words and I can´t compete with the media that have been on the scene for years, but I like this classification and can´t resist it 🙂.
---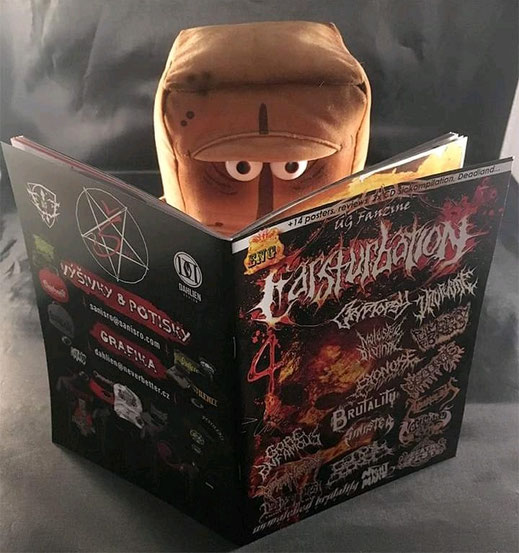 D: How many prints did you do of the last edition? Do you have a good printer you are working together? I just saw a video on your profile I think when you were in the factory.
Moni: The new issue was printed in the printer, where works big Deather, who drew cover arts to many legendary bands and offered me this opportunity at the festival last summer. The new shiny look of the zine is his merit, I didn't really know it until the last moment. That video is his work, he wanted to document me the overall process, it's a bomb! The previous 3 issues were born in a nearby printer, which was equip to me by Juraj "Immortal" Harin, who helps me with the zine from the beginning and he was wiping first pieces from the birth fluids as if it was his own underground child. You asked for the cargo... from the first issue I remain faithful to 500, only the proportion of the Slovak and English mutations gradually adjust.
---
D: What can we expect for next edition? Are you already planning it? Maybe you can feature me…I will sponsor a two site report! :D (from fans for fans!)
Moni: Friends who follow my zin from the first number knows very well that the first slice could be the last one at the same time. This is repeated for each issue, so the future is uncertain. I sponsor the whole load myself and it's not easy, if it's supposed to stay in the UG waters, I wouldn't like to take some promises. All I can promise is, don´t push me and let me do what I want, it is only one way how to save my zine in good level. If I had fulfill the wishes of all the extreme fans, I would have published a rough book every month haha. And it certainly would have no with same passion.
D: Did you expect to get so much support out of the scene when you started your project? I think a lot of people, me included, love the magazine and that with passion created stuff in the scene!
Moni: That's a good question, I just don't know the answer to it. I have no idea what I expected. It just came, and I'm definitely not a conceited geese now, it's the baby of all of us who love these extreme bands you can find in the zine. I was stubborn from the beginning and had an idea what I wanted. I insisted on full-color printing, posters for every band with interview, also song for every band on Sickompilation. Just let me know how many of those bands never had poster. But Nightwish already has 138 in every big magazine. I have always hoped that someone would release such a fanzine once. It didn't happen so I did it. I can only be pleased that everyone will appreciate it despite a lot of mistakes. We are UG.
---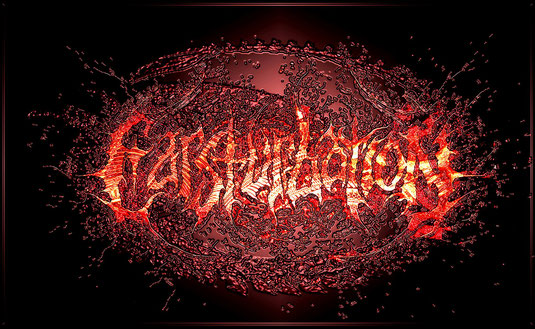 D: I am a big collector for nearly 25 years and have about 4000 CDs at home. Are going the same direction or are you not so into physical media? I guess I am pretty oldschool, haha! :D And also what does your collection of CDs, Shirts, Stickers and so on mean for you?
Moni: I wish my room was bigger haha. I no longer have a place on merch and CDs. Just recently I got rid of about 1000 casettes, because my walkman died and I had no place for the tapes. Now I'm struggling with the same problem because of CDs and T-shirts. I collect everything that concerns my favorite bands, I also have a nice collection of mugs with logos from my friend who makes them, also drumsticks, guitar picks, stickers, badges, posters, flyers, fanzines, everything that goes with it. It's a disease and can't be cured.
D: I guess you are a big Gorgasm fan. I think that is no big secrete if we all saw your Stabwound Orgasm Tattoo. Are those guys your favorite band? And what 5 - 10 bands would you count to your all time favorites if you can even choose from so many great acts out there in our little family?
Moni: Of course, I love Gorgasm and my tattoo consists 3 of their cover arts, also my body is decorated with Nile, Suffocation and the latest Gorguts. I listen to all of the Death Metal varieties, I fucking love sick complicated technical compositions full of dissonance that I need to make University to understand the point. The favorite list would be infinite and if possible, you will find all my favorite bands in my zine. It's awesome to have many of these monsters for great friends. Sick family!!!
---
D: Thank you very much for taking the time again and being part of my little project I am doing for 5 years now. Last words are on you. Something you want to share about Earsturbation or something personal with the audience?
See you next time Moni. First round is on me! :)
Moni: Once again, thanks for the space, let's see what time brings, keep my fingers crossed for anything will happen! Earsturbation celebrated 2 years, during which I met many wonderful fools praying for the same wildness I adore and brought me my guy, cheers Alex! See you at shows at beer, in moshpit... Extreme Metal is perverted in all its forms, choose your own way and it will bring to you neverending orgies!!!
Moony
---
---
Inside View - Earsturbation UG Fanzine
---