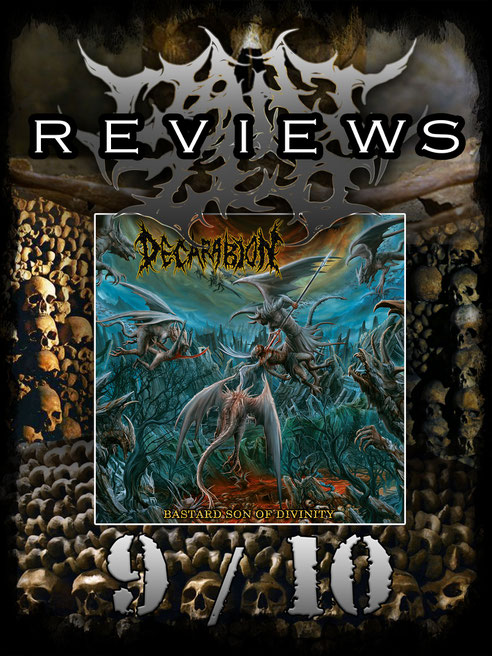 A South American Thunderstorm is arriving straight out of the heart of Colombia. The storm called DECARABION delivers hyperspeed and ultra guttural blasting Death Metal in veign of Amputated Genitals with the dirty blasting oldschool brutality of Krisiun. This combination of different south american sound aspects gave birth to the record "Bastard Son of Divinity" which name couldn't be more fitting.
This album is another top class release of the label Unmatched Brutality Records which is back to take the throne again. As I was mentioning Amputated Genitals already is a good comparison, especially from the vocals because the singer Sebastián Guarín was in duty of the named band and also in Suppuration, Animals Killing people, My Plague, Extremely Rotten and still in Bacteremia. So you know what is up, expect nothing else then a pure guttural devastation!
The other 3 musicians of the 4 piece band are also no unknown underground musicians as Mario Franco plays in Impure Faith, Daniel Lara in Theurgia/Waste Mankind and Sander Bermúdez who was active in many bands I guess most known for Carnivore Diprosopus. Besides all this background information we should jump back to the 8 tracks of "Bastard Son of Divinity".
---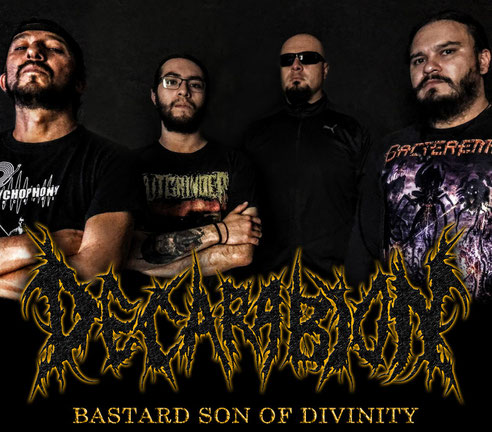 The opener "Cult of Void and Chaos" prepares you with an awakening intro before blasting your head right off. Decarabion steps down the gas pedal more and more and will not stop until the closing title "Sub Especie Aeterni". Superb brutal Death Metal at its finest! This is the kind of sound just South America can deliver. Primitive and straight brutality in its purest form. Don't get me wrong, the played music here is no caveman riffing at all. Technical high notch and fast riffing is what you going to hear but the brutality blasting through you ears can't be much more pure and honestly played!
Not a single song is letting you down or even give you a second to catch your breath. This storm is setting the heavens on fire and you can watch the angels fall from the burning sky. So the cover artwork of the album is presenting perfectly the apocalypse you will face when you spin it in your player.
Overall a nearly perfect brutal Death Metal record and a must have of 2020. Everyone missing this out will burn with the angels.
9 / 10 Horns up and cheers. Zed
---
---
CONTEMPLATIONS OF DEATH AND DECAY [OFFICIAL LYRIC VIDEO] (2020) SW EXCLUSIVE
---
Contemplations of Death and Decay ft. Fabio Marín (Live Clip)