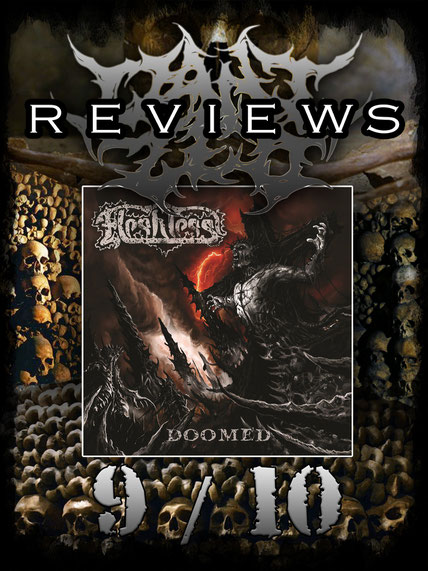 Czech Death Metal Powerhouse Fleshless is delivering again. The new album "Doomed" just came in and what should I say? These guys just know how to write their songs and always bringing the sickness since 1993.
Already album number 11, if I counted right, is still blasting your face off. 26 years in the underground business and not tired yet. Fleshless is shoowing the youngsters how you shredd, blast and kill while not loosing atmosphere and oldschool song structure feeling.
I have always been a fan of them since I received the album "Abhorrence Of Cadaveric" from a friend back in 2000 or 2001 and they never dissapointed me. Also not this time my friends!
CD was released on Rotten Roll Rex Records. So they are added to a sick roster of other great bands!
11 Tracks on the album, 9 if you take away the intro and outro, are just pure blasting Death Metal. Nothing more nothing less. What I really dig in this record are the small extras. A cool groovy riff there, athmosphere loaden melodies to soak everything in it's darkness, great tension up building parts to prepare your head to bang and release the beastiality upon everything.
I like songs like "Noise PT. 5" on the album which have a nice and groovy beginning before the blasting brutality starts. Also the song after "Ninety-Seven Pieces" is a groovy banger with lots of blasts and hooks. The album got a lot of depths and is definitly worth it to listen to it more than one more time. Not just worth it, it is a must that you miss nothing from the fun to discover in the songs.
Great Cover Artwork done by Rudi Gorgingsuicide (Art Yanto). I am not familiar with his other works but pretty cool, dark and depressing. Monster Jesus nailed to the cross which fits perfect to the atmosphere on the album and makes everything even darker and depressing. (in a good way)
So if you are ready for a pure storm of oldschool spiced death metal brought to today's era then this is your album. No boring standarized slam stuff, just written how it needs to be done. Not to complex to go into a tech based death metal corner but all the hooks in it makes the record interesting all the time and you will enjoy every tone while listening.
Recommended for all previous fans of the band, Cannibal Corpse, Vader, Misery Index, Obscenity, Vomitory, Poppy Seed Grinder and others in the veign of.
Strong 9 / 10 for a great piece of music. Enjoy. Cheers Zed! 
---