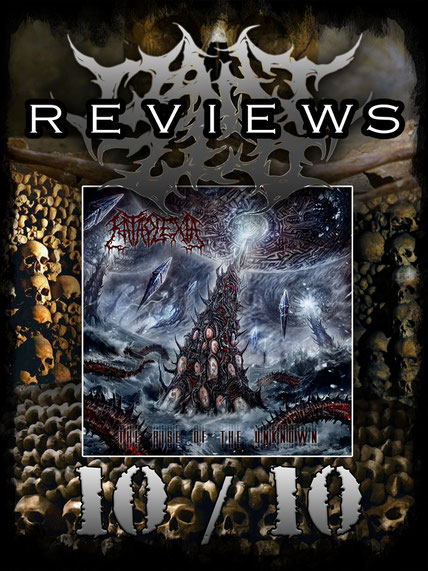 I nearly had an heart attack when I saw that one of my favorite Brutal Death Grind Bands from back in the day is releasing a new album. After a wait for 10 years!!! Kataplexia is releasing the long awaited follow up to "Supreme Authority" called "The Rise of the Unknown". Released on Rotten Music.
When I was talking with Chris of Rotten Music and he said he will send me a new package of his releases I was really really looking forward to hear this new output of Kataplexia. Like a little child before Christmas. And what I should say, when I put it on I had a little nostalgic tear in my eye and was near to boner time haha. Really enjoying this right now. The opener "Profanities of Artificial Incubation" starts straight a head and blasts your brains out. Nice influences from all sites, even a Fear Factory rhythm riff there but all trademarks of the band are still there. I just sit back and had a 30 minute fun time of pure BDM joy.
I am a fan of this band since the first album "Morgue's Reality" from 2003. I think I bought this back then at Ludwigshafen Deathfest. Since then I am enjoying the tunes comming from the unrelentless winters of Finnland.
They also stayed true to the artwork and offering a different versions of the last one. It is closer to the so called "Tower of Suffering" and more detailed. Really dig this stuff.
Recorded was everything in 2018 at Xhapulin's & Xhupacabra's Studio Room. The 8 songs from the 2 piece band are a non stop blasting and grooving banger. No compromises, just straight to your face. Everything is ultra tight and the groovy riffs are just thrown in to keep everything as interesting as it could be. The songwriting is complex enough to surprise you with new hooks to find with more runs you give it in your CD player.
Totally played like in the beginning of the 2000s where the best BDM came up, this album is just pure gold for me again. Guttural and froggy vocals, nice guitars, from shredding, groove and even guitar solos everything are there to show what these guys can do on their instruments. Drums are tight as fuck and everything is greatly produced overall with a great sound for this kind of music.
No standarized Slam Death metal you hear from countless bands. Perfectly written and the time to wait was absolutly worth it. For every fan of Brutal death Metal this is a must have. If you are a fan of the following bands - Suffocation, Gorgasm, Internal Bleeding, Pyrexia, Disavowed, Pyaemia, Unmerciful, Lust of Decay and so on. Don't hesitate to get your copy right now!!! You won't regret!!!
In the words of Kataplexia's Thank list in the album: "KEEP IT BRUTAL FUCKING DEATH METAL!"
10 / 10 for me. No second thought about that. This is just my thing. <3
Cheers Zed
---