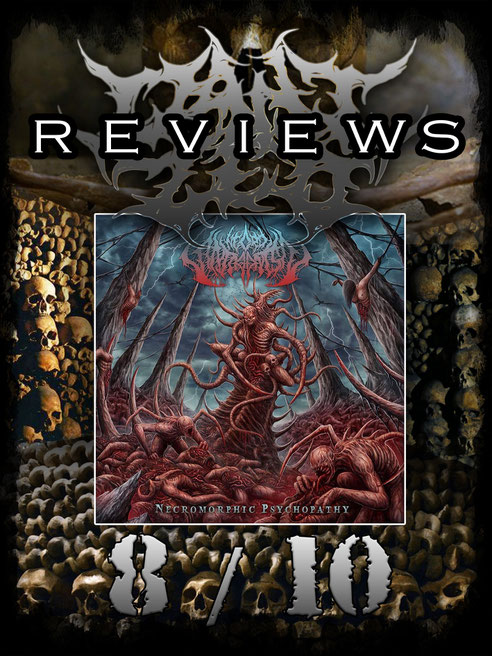 The 2 piece band NECRO ANTAGONIST from Bayombong/Philippines make no fucking enemies from beginning until the end of their crushing EP called "Necromorphic Psychopathy". Pure blasting and guttural Brutality is awaiting you. Fast drumming and shredding guitars with a lot of rhythm change interupts to keep variety alive. The band just step of the gas pedal to groove and give the listener some time to catch their breath.
The 4 track EP delivers in less then 20 minutes just pure fucking brutality. Nothing more and nothing less. The band reminded me to mixture between Fuck I'm Dead, Insect Warfare with a guttural groove node of Kraanium. When we are talking about the Norwegian Slam Monster, I just read that Mats will be featured on their upcomming full length.
The band is fast and relentless but still has a nice flow to the songs and sick arrangements to keep it interesting. They never lose themself into senseless blasting and keep the dose between fast riffing and groove arrangements pretty balanced. This is also the recipe which keeps you in the game while listening to record. So we have the blasts, the shreds, groove and gutturals. Everything a fan of sick underground BDM is asking for.
I am looking forward to hear more from the band and keep an eye on the upcomming full length! This EP is way over too quickly!!!
8 / 10 and blast on!!!
Cheers Zed
---
---
Wrath Of Depravity (featuring Januaryo Hardy Of Perverted Dexterity)