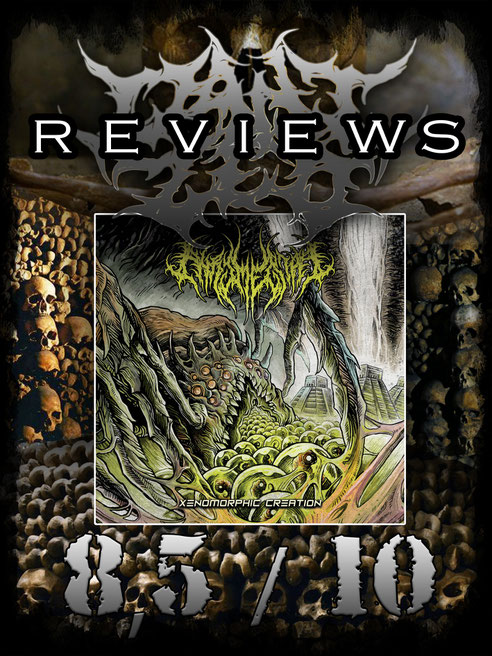 Spain is giving us this hot blooded heavy breakdown called "Xenomorphic Creation" from the slamming Deathcore maniacs PHRYMERIAL. Released on MIASMA RECORDS and VOMIT YOUR SHIRT, I received this album lately with a promo package.
The 8 songs and 25 minute long LP starts very slow and quiet before it smashes you after the Intro "GENESIS" with the first ten ton hammer called "Anunnaki Sperm Shot". Downtuned to the lowest but still catchy with a lot of technical riffing this baby makes you bang your fucking head. Pig squealing you to death to the break down rhythms and hyperspeed blasts. This record is a good mixture of the technical deathcore world and its modern influences combined along with the old age caveman riff primitive brutality of slam. Just the right dose of everything is the secret of this mix.
Songs like "Atanathos" are showing this pretty good. It is really good balanced between the different elements mixed together. Also to mention that Diogo of Analepsy is featured with some guest vocals on this song. Expect some heavy and guttural devastation.
---
Besides instrumental song "The Human Cleansing Part 2", which is very atmospheric and nice to relax, the songs keep up the high energy from beginning to the end. All elements from a Deathcore and Slam influenced band are there even when the technical part is more dominant. This album could also be recorded 10 years ago when the Deathcore hype started and a lot of stuff was still very much Brutal Death Metal influenced.
If you are a fan of bands like old Despised Icon, Malodorous, Degrade, first Job for a Cowboy EP, Abominable Putridity and even Arsonists get all the Girls you can give it a try. This record is a real virtuoso trip depending on the song structures. The 5 members John Puig (Vocals), Jeshua Roche (Drums), Alex Samoila (Bass), Alex Lastra (Guitar) and Dany Morton (Guitar) are really great musicians and I think they didn't show everything they are capable off. So I am really excited what is about to come from them within the next years.
8,5 / 10 for a great album and a nice mixture of different genres. For sure this sound will fit to a lot of fans of extreme music. Just try it!!!
---
---
Amenti (Official Music Video)
---
Unpredictable Prophecy (OFFICIAL VIDEO)