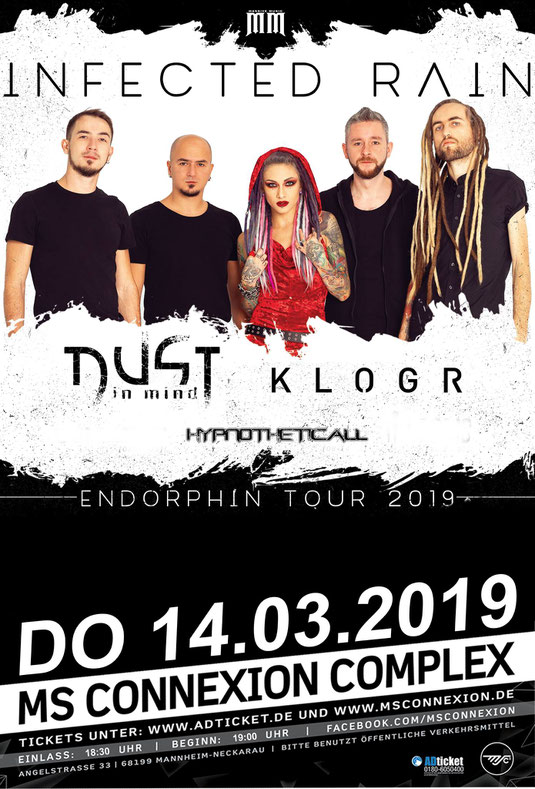 It was thursday evening and time to drive to Mannheim for seing INFECTED RAIN on their first tour for the new album ENDORPHIN which will be released this year on Napalm Records.
Like always the way to MSConnexion concert venue in Mannheim the traffic was hell. 3 times traffic jam with accidents, police and ambulance. Luckily me and my accompaniment made it just in time.
After calling my friend Simeon who is doing the the sound for INFECTED RAIN we checked out the Nightliner of the bands and headed in. The MSConnexion was still pretty empty but it was also early that night. So first duty was to get an ice cold beer to start the evening.
While chatting around with some people I know the band HYPNOTHETICALL started. They did their thing and give their best but the music didn't get me, so I stayed hanging around and talking to a good brew while checking out what was going on the stage from time to time.
After 30 minutes the band was finished and went off stage satisfied as I saw and also the fans in front looked pretty happy. You can check out the Full show below from my Youtube Channel.
Change over for next band means another drink. I talked with some friends and waited for the next band to start.
---
Hypnotheticall
---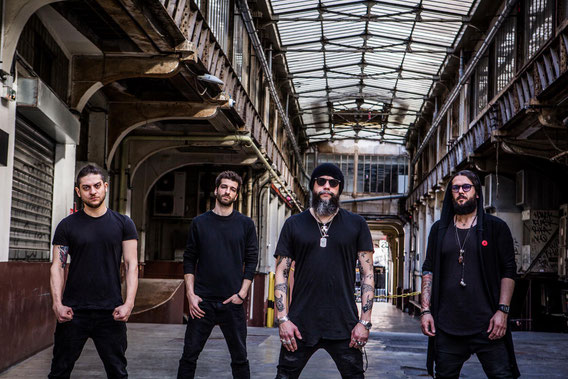 KLOGR was up next and I was enjoying their southern Rock style mixed with decent Metal much more. Perfect for chill out in a club to some good music with a drink in your hand.
It was also not too loud and with a little shouting you could have a talk haha. No, to be honest it was just a good show to enjoy and be around. Good vibes comming from the stage and seeing the band was in their elements was just fine. The people around were also pretty into it and having a great time. I will watch out for those guys and add their records to my collection.
Check out their full show below.
---
kLogr
---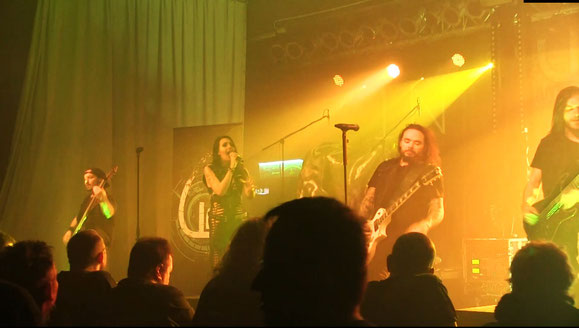 After the change over the first female fronted band was comming on stage called DUST IN MIND. They are playing a mixture of Industrial Metal with some Nu-Metal elements and also some melodic Metal/Rock influences.
As far as I read they came around for some other tours supporting and are also on the rising way of success.
They really did their thing with a lot of enthusiasm while playing their tracks. You could easily see that they had fun bringing their art to the audience. A little less then 40 minutes all the magic was over with a lot of aupplause comming from the audience and you could see the band leaving with a smile on their faces. So I would say mission accomplished.
Check out their full set below.
---
dust in mind
---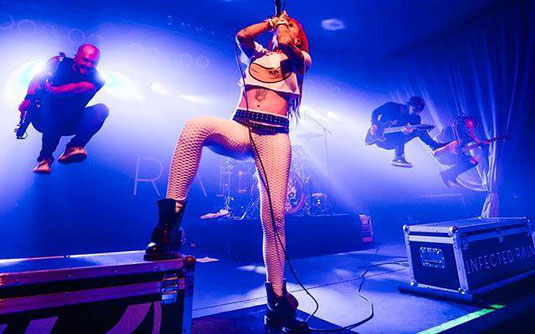 To be honest the first 3 bands instead of KLOGR was not really my thing but now INFECTED RAIN were comming on stage and the party could began.

After an atmospheric Intro they started with a well known opener "Fool the Gravity" followed up from "Mold". 
After this the band and audience were already heaten up for what was to come. The band gave everything they could like always and were pushing the show straight forward mixed with Lena contacting with the audience between songs what worked great like always. 
The atmopshere while the show was really great and everyone felt welcome in the "INFECTED FAMILY" like Lena is always saying at a show.
The band played their set through songs from the 86 album, which they are supporting since 2017, very routined. They are very focused for the new sound they created with it and marching away from old stuff by erasing all old songs before 86 from their setlist. Just "Sweet, sweet Lies" from the second album EMBRACE ETERNITY is left.
But let's ge back to the new material. They played two new songs from the upcomming album "Endorphin" which will be released this year like I said before. "Passerby" and "The Earth Mantra". The Second one I released a live Video already and is my favorite from the two new songs as well. Very atmospheric and a great vibe all over the song. If they continue like that the new album will be a banger for sure and I am really looking forward to the release! Hopefully the date will be anncounced soon.
The setlist for the night was the following:
Fool The Gravity
Mold
Serendipity
Passerby
Orphan Soul
My Home
Freaky Carnival
The Earth Mantra
Smoking Lies
Peculiar Kind of Sanity
Encore:
Endless Stairs
Sweet, Sweet Lies
A good selection from 86 but I was hardly missing songs like "Judgemental Trap", "Me Against You" or "Stop waiting". Also I was not alone with this feeling like some other fans I know told me after the show. So maybe with the next tour run with all the new songs in the backpack they will also throw in some classics for the oldschool fans like I am. Personally I would love to hear songs like "No More", "Voices" or "Panika" live one day.
I was thinking about a cool mix set between old and new songs. Maybe some of you will agree. Feel free to leave a comment about this! (List is from actual song status...because new album is not released)
My wish-Setlist:
Queen of the Candy World
Serendipity
Stop Waiting
Voices
Panika
Fool The Gravity
At The Bottom of The Bottle
Count to Three
Endless Stairs
Me Against You
Fool The Gravity
No More
Smoking Lies
The Earth Mantra
Homeless
Judgemental Trap
With breaks and talking between the songs this could be a full set for sure. I would be interested what would be your favorite Playlist? Please feel free to comment here or on Facebook. Maybe I will start a little discussion about this. I really like to share opinions and tastes!
Let's go back from the wishing to what happened. After the band took a picture with the audience. Lena came out like always to give autographs and make pictures with the fans. This continously hard work on stage and with the fans is outstanding and I have to take my hat for this. Always being positive and being in a good mood for your fans even if you feel sick or having a bad day is a strong ability I admire.
Everyone was happy after the show and were leaving satisfied. Some people stayed to drink and talk with the bands outside before the tour bus left. I drove home earlier after a great evening with good music and meeting some friends. Maybe I can catch up again another date when they tour in autumn with Lacuna Coil and Eluveitie. See you all around!
Cheers Zed
Full show of Infected Rain below!
---
INFECTED RAIN
---