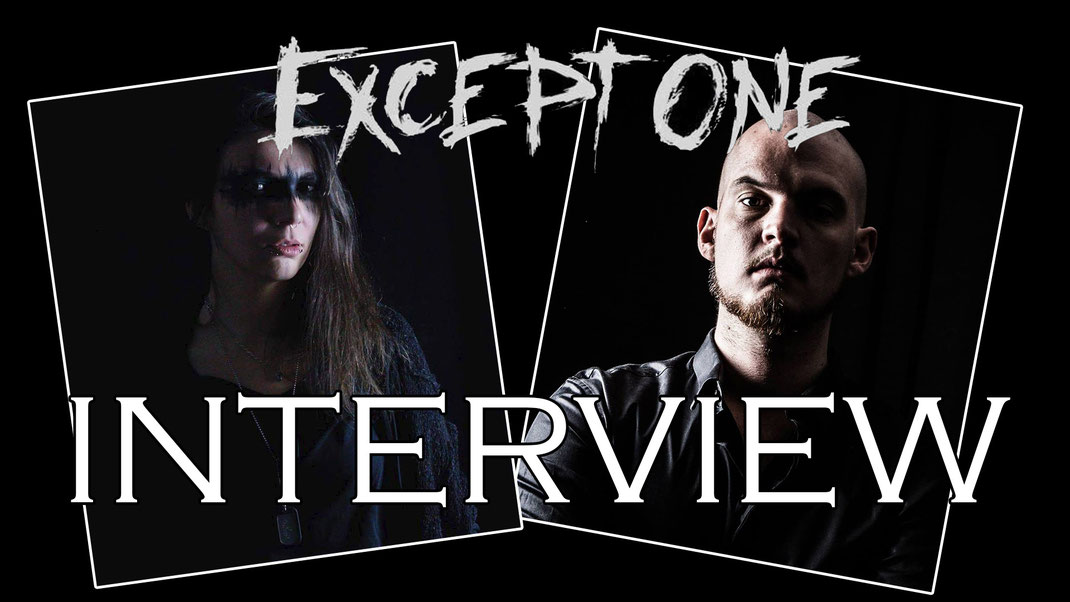 When did you start the band and what were your influences to start with it?
Estelle : Sooo basically the band start 8 years ago in 2010 ! At the beginning the main idea was to play "our" metal, with no "precise" influences
Junior : Yup, it was really hanging out playing with a bunch of friends to get funny moments ! 
---
you have now 2 EPS and a new Full album out. How would you say your songs and writing has changed over the last years?
Estelle : Good question ! I would say that all the magic in Except One came from what we do together. Each step was a real challenge to us, so we learned from the Ep's and we change everything on the album with literally days and nights together working around on the songs, changing everything, listening to everyone. It's a real move for us, a real way of working. Sharing !
Junior : Plus I would say that rather than on the Ep's, the Album was deeper in the songwriting you know, like "Ok let's do this really strong". But we stayed focus on the "natural" part of our songs.
---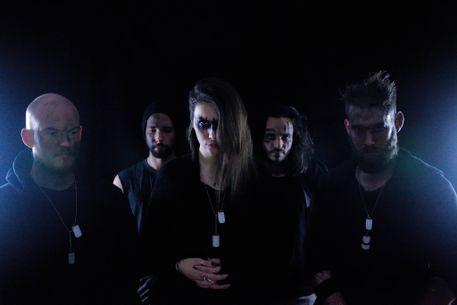 You already have some music videos out. They look really professional, who did those direct and was it hard to create this as an independent band?
Junior : Aha thanks ! For "nothing" it's a good friend of us which is also the drummer of a band named "smash hit combo". He is a really cool / professional film maker and we wanted to work with him since our last Ep "Fallen".
Estelle : We are so lucky that we get close friends which are that talented to create videoclips. For us the difficulties start when it's about to get things in the band you know ! 
---
Do you think starting a DIY band needs a label anymore with all the digital marketing like spotify, bandcamp, facebook, youtube and so on? Is a booking company for gigs more important?
Junior : Hum I think that a good PR + a good agent is more important for a DIY band definitely, than a label (even if we dream about that). For us it's working that way 😊
---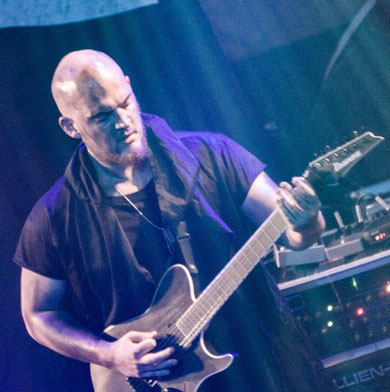 Let's stay at the Live Gig topic. Do you have any big plans for shows in 2019?
Junior : Mate so sorry that I can't tell you anything about it.. BUT yes our agent is currently working on big things in Europe 😊 We'll let you know promise ! 
You are from the Paris underground scene. How would you describe the Metal Scene in Paris or France overall? Did you receive good feedback to your new album in your country?
Estelle : The feedbacks are super great and we are really impressed that people like it that much!
Speaking about France is quite difficult because the country is rich of tons of talented metal bands but we do not get the cover in magazines like it is in Germany, United Kindom etc…
Junior :  Yup and that's really strange because if you look at our events and festivals (hellfest !) we got the public and the numbers speak for themselves. I assume that it's something due to the mass media, but that's cool because you have this "underground touch" in our way of creating music
---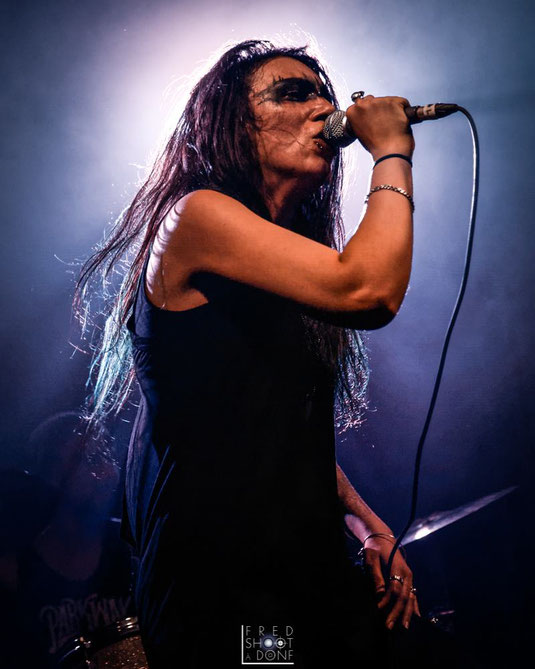 Extreme Metal Bands with female singers get more and more common in the last years. Do you feel positive or negative properties about this? Did you have good or bad experiences?
Junior : To my opinion is always something I feel good with. I mean everyone can do music in all "genre". We never gets bad experiences, only surprise from the people. That's only because getting a woman screaming / growling is not as common as a man 😊
One Question to Estelle. What did you move to grab the microphone and sing extreme vocals? Were there any big influences why you choose to sing in an extreme metal band?
Estelle : I use to play guitar but I hurt quite badly my wrist. I wasn't able to play guitar anymore so I moved on and start singing and it's something I'll never quit !
About the screaming, it all came from Max Cavalera, it's a real influence to me.
---
Last question, what can we expect from Except one in the near future? Are you already in writing process for new songs/album?
Estelle : We are wishing and acting for so many things, we won't stop and hopefully you'll hear from us soon ! 😊
Thank you very much again for taking the time. All the best for your musical career and hope to see you around live very soon! Last words are on you!
Estelle : Thanks a lot ! Listen to our album, share it, come to the concert, speak with us ! We are alive because of you, thank you !
all pictures taken from bands facebook page and send from the band.
---
Review - Except one - Fallen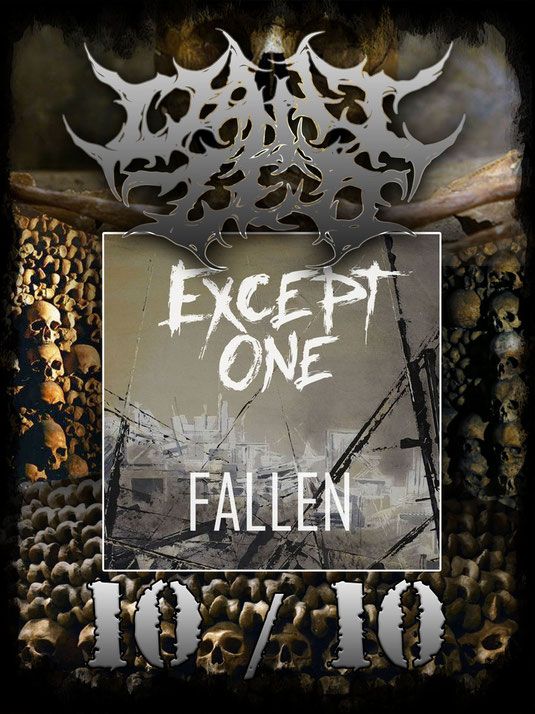 Except One comming straight from the France underground in Paris with an explotion to the Scene. I just discovered them and they are my secret tip of the early year 2019. With their first full album "Fallen" they created a massive output of an extensive mixture between melodic Death Metal, Deathcore, Metalcore and even progressive influences.
This hybrid becomes something on its own depending to the sound. The 12 tracks on it are just killers no fillers. Not one single song is just a place holder to extend the album length, like many bands do, all are just brilliant written and have the power to stand for itself.
The 5 piece released an EP before in 2016, called "Haunted Humanity" which is also great but on "Fallen" they improved the compositions/writings and pushed their songs to newer limits.
The female vocalist Estelle brings a wide range of extreme singing. Starting at a more classical rough hardcore barking voice to more death metal orientated deep growls and screams everything is there and very intense.
Musically, as mentioned before, it is a great mixture of different genres they are making it to their own. The melodic parts/guitar solos are perfectly fitted into the shredding and fast parts of the songs to fresh it up and keep it as a hooking reminder in your brain.
Songs like "Until the World Burn", which its high tone lead riff just fucking bangs, is a good example and also the song "Nothing" to which they released already a music video.
Link here: EXCEPT ONE - NOTHING (Official Videoclip)
This is also what I meant with saying that every song is strong enough to present itself but all together it is combined to a concept album which doesn't need to hide behind big bands in the scene.
This album destroys newer albums of bands like Arch Enemy with a blink of an eye. Even if the style is different, I just compared because both are female fronted bands in death metal orientated music. So keep and eye out for these guys(and girl), they didn't come to leave. They came to stay and conquer!
I hope they will start a new tour soon and maybe come over the border to germany and I can check them out. Also I would like to tape the liveshow. Maybe we can see this soon…stay tuned!
For me definitly a 10 / 10. My number one discovery lately. They are a D.I.Y. band. So please support them if you can. I already ordered the CDs/Shirt and they signed it all with a nice message and everything. Very nice and dedicated band to the fans.
Cheers Zed
https://exceptone.bandcamp.com/