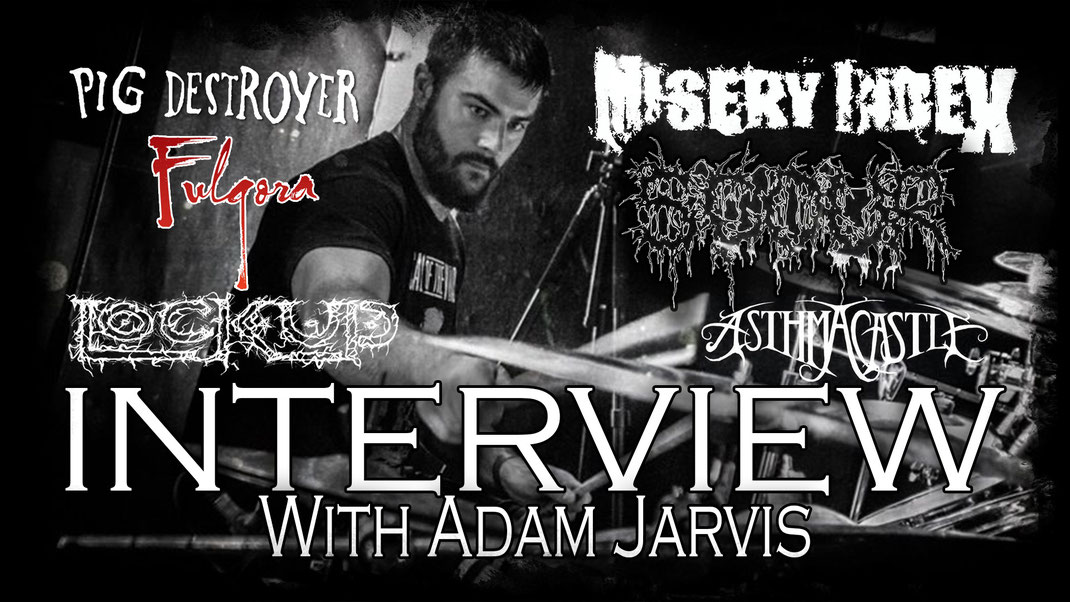 Hey man, thank you very much for taking the time to answer some questions for me! I am following your career for many years and have seen you with Misery Index countless times! Really crazy that all this is on "pause mode" for nearly a year with Covid-19. Would be awesome to hang together again at a show and have a beer!
DZ: So this takes me already to my first question. What was the last show you played and with which band?
AJ: The last show I played, unbeknownst to all of us at the time, was with Misery Index on the last date of the "Campaign For Musical Destruction Tour" in Köln Germany with Napalm Death, Eyehategod, Rotten Sound, and Bat. If there was one tour I would've wanted to do this year this was the one. Every show and everyone on the tour was amazing.
---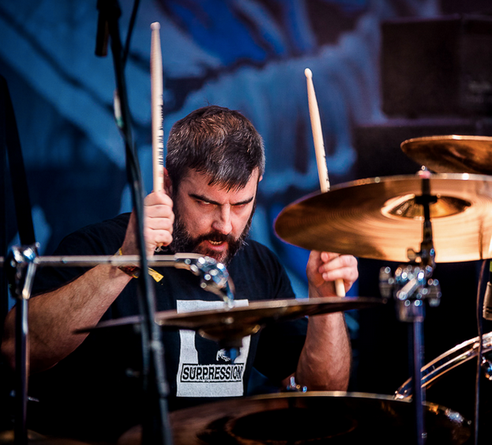 DZ: Besides Misery Index, you also play in  Asthma Castle, Fulgora, God Enslavement, Lock Up, Misery Index, Pig Destroyer and also SCOUR since 2017. (I hope all the sources from the Internet are correct! ;D) How do you find all the time for this?
AJ: Well most of these bands are side projects that only require time when it's necessary. With that said, Misery Index is the only band that actually tours.. So for all the other bands it's a very part time thing...
I practice more with Pig Destroyer and Asthma Castle than any other bands that I'm in cause were all in the general vicinity of eachother... but for a band like Scour and Lock Up, we're all in different states or countries... I've only played maybe 10 shows with Scour as well as Fulgora. It's fun to mix things up though. It keeps it fun and interesting.  
---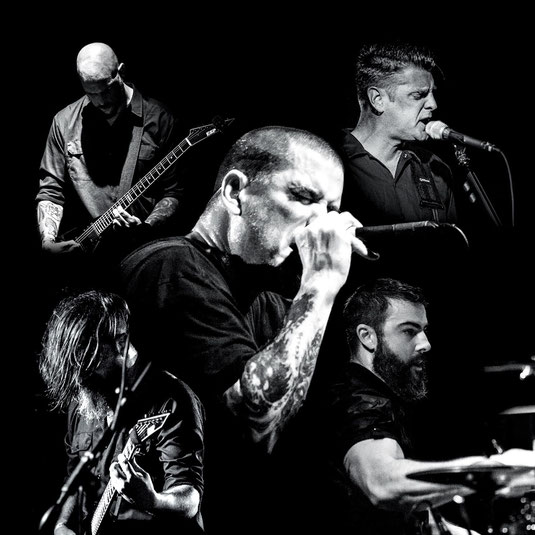 DZ: You just released via Nuclear Blast Records the newest release of SCOUR called "BLACK". This project is with the well known Phil H. Anselmo of Pantera. How did the contact between you guys came up and that you joined the band along with your brother in crime of Misery Index Mark Kloeppel?
AJ: The communication and relationship with Phil all started because he heard one of the Fulgora songs from one of his buddies in the band Haarp. He contacted us personally on Facebook and wanted to sign us to Housecore Records. I first met Phil (well besides for when i met him in 2001 at Ozzfest when DOWN played) when the Illegals played in DC back in 2013??  He put me on the guest list and we hangout till like 3 in the morning and we had so many amazing conversations that night. After that he invited us to come down to his house and record.
John and I went to Phil's place after Pig Destroyer played in New Orleans with EYEHATEGOD and the relationship was solidified after that weekend. There's still some Fulgora material that hasn't been released from that session that is totally sick! We had such an amazing time down there, and him and his wife Kate treated us like family. That's been the same every time we go down there. Once you're family, you're always family. That good ol southern hospitality haha!
---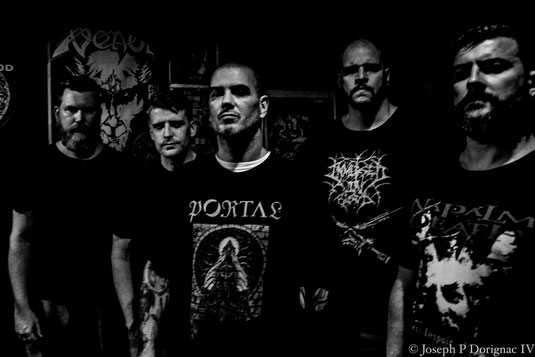 DZ: The band SCOUR is combined with a lot of talented Musicians besides you, Phil and Mark. John Jarvis and Derek Engman from bands you also played together complete the line-up. How was the work together writing songs the last years and especially for the new EP "Black"? How does your writing process look like normally for SCOUR?  
AJ: It all starts with the riffs. Derek is the main song writer for the band and sends me composed songs with basic drum patterns and I take if from there and make it my own.
For the Black EP there wasn't much time for me to digest the songs, because I was busy at the time recording the drums for the Misery Index album "Rituals Of Power" when Derek started sending me some tracks.
Basically after I finished recording drums for the MI album down in Florida with Erik Rutan, I had a week to listen to the Scour tracks We all met up down in NOLA for Phil's 50th birthday bash and after that started recording the drums for the Black EP. It was pretty nuts…. I literally never rehearsed any of the songs and just started recording. So some of the takes on the Black EP are the first take and first time that I ever played the song!!
---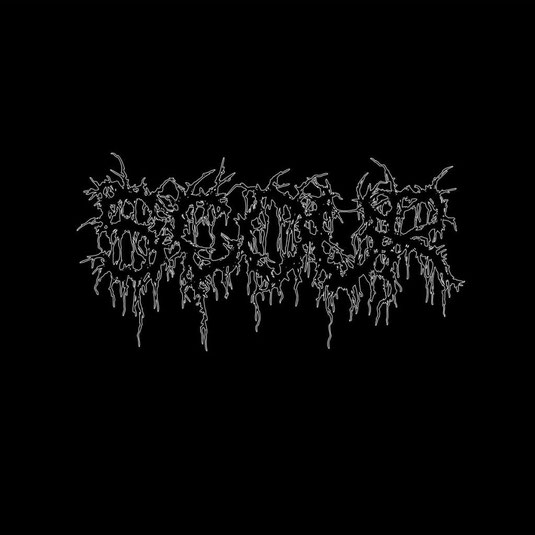 DZ: How was the recording while Corona is going on? Did you all record your parts separately without meeting face to face?
AJ: The only thing that was recorded this year was Phil's Vocals. The drums were recorded back in 2018, the guitars and bass were recorded shortly there after. It was basically the same as the "Red EP" I did the drums at Phil's studio and everyone else did their parts on their own.
DZ: I have never heared Phil doing this kind of extreme vocals besides some stuff of old Necrophagia when he was in. Do you know was it the idea from the beginning to create something so much different and extreme besides Pantera, Down and others when founding the band SCOUR?
AJ: The idea of Scour was started with Derek and John. They asked Phil on a whim and he ended up loving the material! I remember hearing the "Grey EP" before I was even in that band and I remember saying… "That's Phil?" He's always been a fan of the underground and extreme shit, including black metal. I mean the dude has a  Darkthrone tattoo. 
---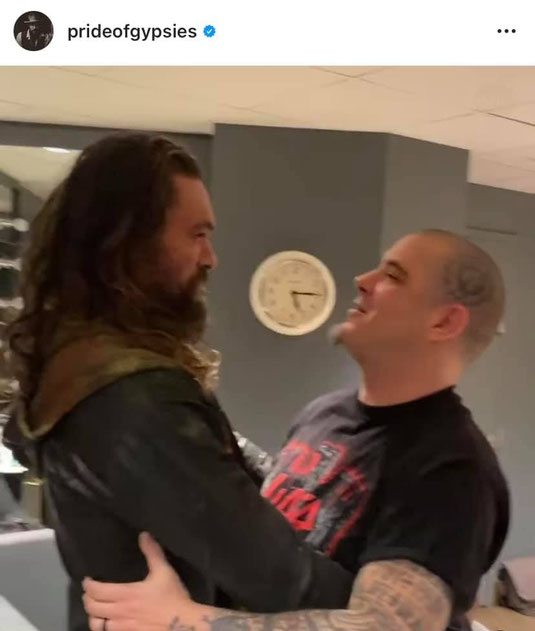 DZ: How did you get the Aquaman actor Jason Momoa to sing on the Track Doom with Phil and how was the work together?
AJ: It's pretty amazing having him on board! He's a true metalhead at heart. He did his vocals on his own during the quarantine actually. There video of it that hopefully gets released someday! Basically he met Phil and the Illegals at the last Slayer show in LA and it all spawned from there. Dude nailed it!! 
DZ: The 6 songs on the album are very heavy, dark and relentless. A lot of Black Metal and blasting Death Metal influences are feelable while the atmosphere is really depressing. What was the goal of the created music and what influences you most for your drumming on the record?
AJ: There's a lot of different influences from Dimmu Borgir, Behemoth, Immortal, and Old Mans Child to name a few. I use my own style and just try and make it a bit different from other projects I'm involved with. Keep it relentless but possible to play haha! 
---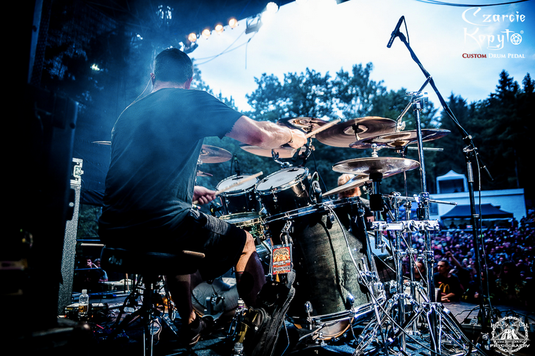 DZ: What are your favorite tracks of SCOUR and what is the story behind those?
AJ: I really like the last song "Subprime" it has the epic build up before the track and really ties the trilogy of the ep's together. That song has basically everything that is Scour in one track. Go check it!
DZ: How did the deal with Nuclear Blast Records came up for the new Release? Are you satisfied with the work together to support the album?
AJ: It kind of came out of left field honestly. Phil was discussing the deal with them for a bit and worked it out so he could still release the record in North America through Housecore Records. They cover the rest of the world and outer space. I mean, you can't go wrong with a label that had Slayer on their roster.
DZ: When liveshows and touring are back to normal, will there be something comming with SCOUR?
AJ: Well that's like staring into a crystal ball at this point. We have some things planned but nothing solid. Basically we need to see where things stand in the next 6 months or so, and take it from there. We hope to get out there at some point for sure!
---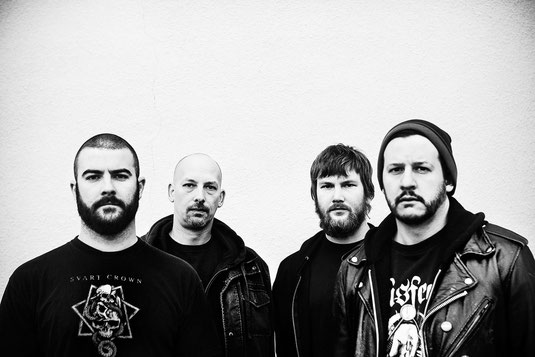 DZ: Besides SCOUR you are mostly known for playing drums in Misery Index and I am following MI since the beginning when Jason left Dying Fetus. How did it actually came up that you joined MI? I just saw you posted an old Tour pic of both you?
AJ: It all started when my original band from The St. Louis area All Will Fall opened up for the Dying Fetus, Skinless, Divine Empire Misery Index tour. After we played Jason came up to me and introduced himself and said he was a huge fan of my drumming, to say the least... I was blown away. Then fast forward a year, they were looking for a drummer, so I sent in a VHS tape of me playing three of the songs. I believe they were "Manufacturing Greed", "Angst Isst Die Seele Auf" and "Demand The Impossible" I had to pay for over night shipping cause I found out about it last minute... so the next morning Kevin Talley actually called me and said that I was the dude!!
That's how it all started.
Now fast forward to 2020 I've been in the band for 16 years and played probably close to 1000 shows with Misery Index alone. It's been nothing but a blast (literally) and so many amazing memories and more to come! 
---
DZ: To crawl a little bit in your past, what did you start playing drums and which bands influences you most?
AJ: I started playing drums and I was eight years old. I was inspired by my father Paul Jarvis being a musician, and always being around music as a kid. Some of the first songs that I ever played were by bands like Led Zeppelin, Emerson Lake and Palmer, Aerosmith, Metallica, then there was just a natural progression of more heavier stuff like Slayer, Sepultura, and Eventually Morbid Angel.
Metallica were gods to be back then, and had a huge impact on me playing music.
DZ: When you look back on your career so far, what would you say are the biggest milestones you achieved and also still want to in the future?
AJ: Well at this point, after being in the touring world for more than 16 years I've got to meet some amazing people and play some ridiculous shows. My first show with Misery Index when I joined the band (at 20 years old) was Waken Open Air... so that alone is a show that could be a milestone and a achievement in it self. Id love to do some sort of a Ozzfest style tour at some point. Or just a massive high profile kind of tour. We've never had the right offer or opportunity unfortunately.
Touring with bands like Cannibal Corpse, Fear Factory, Napalm Death, Morbid Angel, Suffocation, Origin, these are all bands I looked up to before joining MI so it's a huge honor to play with such amazing musicians and call a lot of them friends at this point. 
---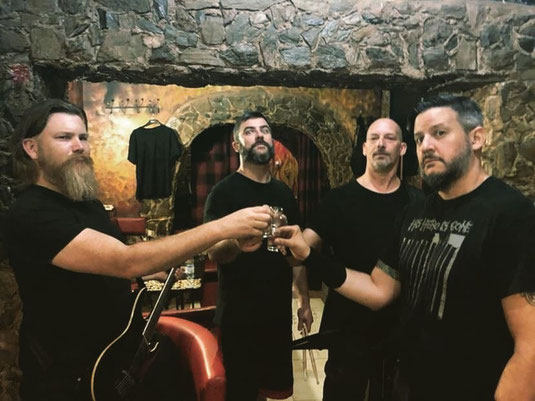 DZ: What can we expect in 2021 from you? Maybe new Misery Index album or something from your other bands? Will there be a full abum from SCOUR?
AJ: Misery Index is currently working on our debut record with Century Media so that's been keeping me busy as of late... Pig Destroyer has slowly been working on some stuff as well.  There's quite a few things in the works and hope to announce some fun stuff this year... 😉
Honestly I just hope we get to play some shows, and get back to some sort of normalcy in 2021.
DZ: Thank you very much for taking the time and all the best for the future! Enjoy your XMAS time with the family and have a great slide into the year 2021 which will hopefully be better then 2020 my friend! Hope to see you soon again on tour and nudge a beer with you!!!
AJ: Absolutely!!!! Same to you and keep on rockin in the free world! Haha! Cheers buddy 🤘🏻🥃
---
---
SCOUR - Doom
---
misery index - rituals of power
---
Pig Destroyer - The Cavalry
---
Lock Up - Demonization
---
Fulgora - STratagem