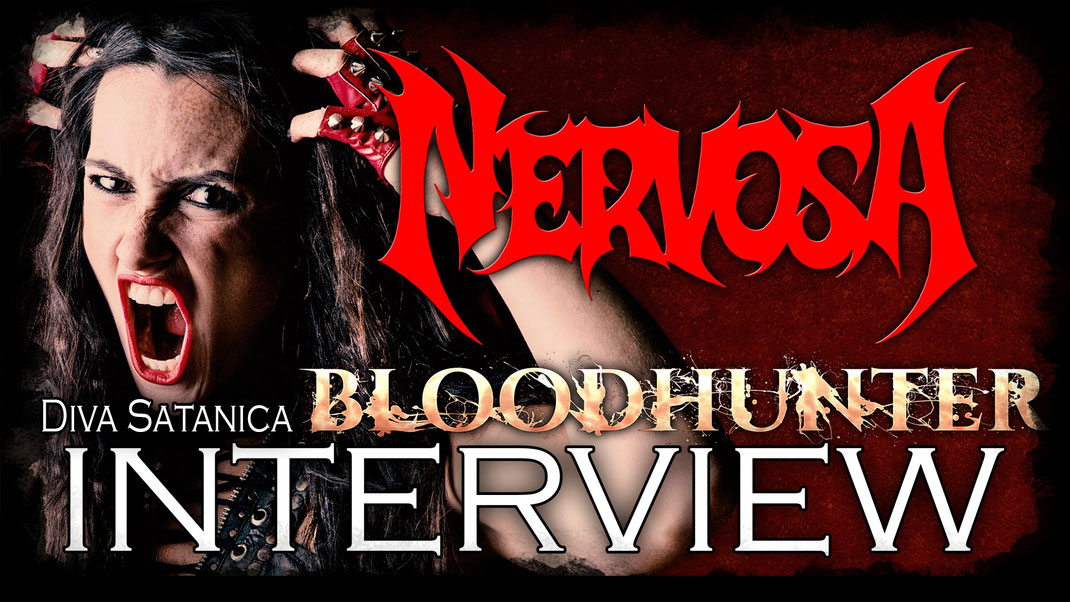 Hi Diva, thank you for taking the time to answer some questions about the upcoming albums from your bands Nervosa, Bloodhunter and also something about yourself!
This brings me already to the first one.
DZ: Your real name is Rocío Vázquez, when and why did you decide to name yourself "Diva Satanica"? What influenced you for this name?
DS: When I started to sing in Bloodhunter, I realized that everybody in the death metal scene were using stage names, so I was searching for something powerful and I thought about the name of this song of the early ages of Arch Enemy.
---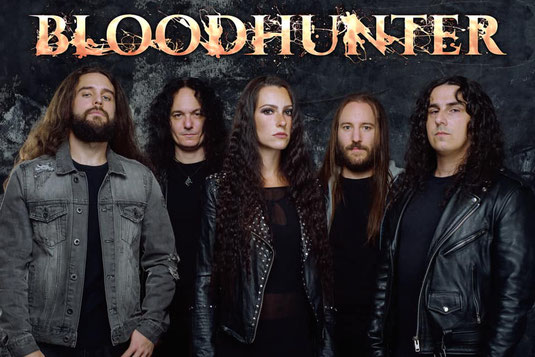 DZ: You are active in your band Bloodhunter since 2012 and having a new album in pipeline for which you started recording some days ago.
What can we expect from the new record and will it be much different to previous two?
DS: We were about to enter the studio some months ago when the pandemic situation arrived so we thought that it would be better to wait a little bit until things were better because we couldn't go even to the rehearsal room to prepare everything together.
It's been 3 years since our last release so I think we have changed a bit and our sound has developed into something a little more technical and melodic. This will be also the first album that will record as band members for our new drummer Carlos Vivas and our second guitar player Guillermo Starless.
---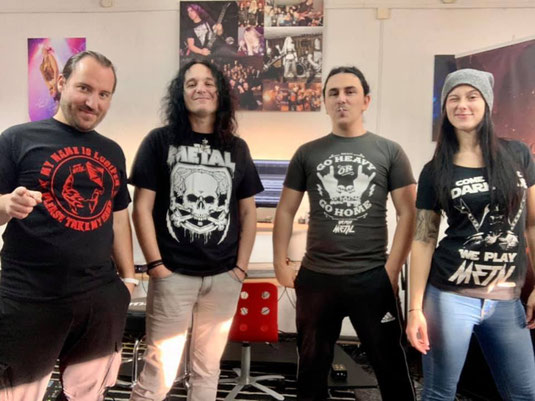 DZ: How were the first days of recording and did you have a big influence as well on the musical writing process?
DS: I always wrote the lyrics and the vocal lines for Bloodhunter but the main influencer in this case is our guitar player and founder member Dani Arcos, that writes all the instrumental parts. For this new album also Guillermo and Carlos contribute to the whole process.
DZ: What do you think, when will the new album be released and will it be again on xtreem music? You already have a title?
DS: With every release we think about trying a new strategy just to see if things get better, we are not sure about Xtreem Music because of that, but let's see what happens and if another record label send us a nice proposal. We are not sure about the title, that's always a very complicated decision for us haha
---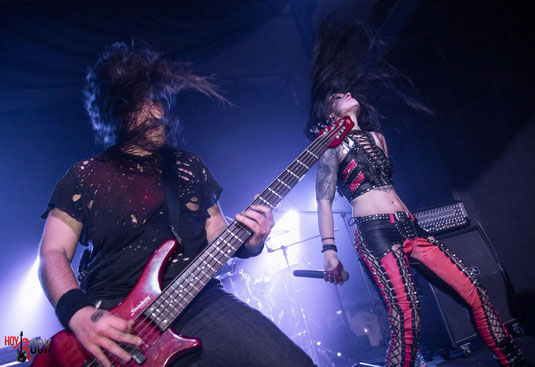 DZ: As far as I have seen it, you never played with Bloodhunter outside of Spain if I am correct?
Did you have plans for an european tour when Covid-19 is over?
DS: Correct, we only made it in Spain and Portugal. We had some offers in the past for Russia or South America and other big slots around Europe but we had to invest very big amounts of money, and for a small project like this, it's not so easy without the support of a big record label. Luckily with this new album we can make it!
---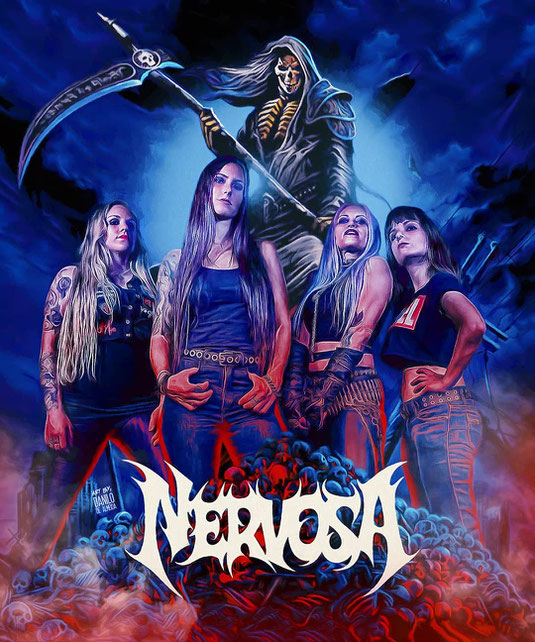 DZ: You also just joined the Thrash Death Metal Band Nervosa which split up earlier this year. How did you join the band and how would you describe the re-incarnation of Nervosa as just Prika is left from the previous line-up?
DS: Prika sent us a message asking if we would like to do an audition for the band so we had to send some videos performing some of the old songs of the band. After many meetings and video calls she finally communicated us her decision and here we are!
This new era is powerful than ever! There are a lot of new influences that came from the new band members and their respective musical backgrounds: Eleni has been working with a lot of progressive musicians, Mia came from the Black Metal scene and I have been involved into the death metal style for the last years.
---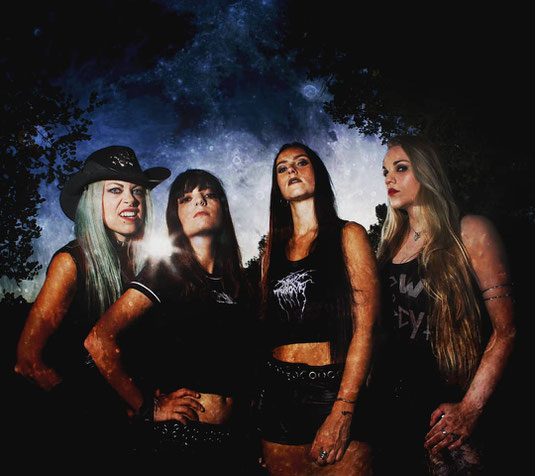 DZ: I saw one of the recording videos of the upcoming album "Perpetual Chaos" which will be released in January through "Napalm Records". How was the recording together and working together with the other band members? Did you have a great time together?
DS: It was very intense because it was the very first time that we met and we had to learn how to work and how to live all together at the same time. We instantly felt a strong connection between us, we really admire each other and we are all very open-minded, so we got on very well easily.
DZ: Some cool inside stories from the recording you maybe want to share? Funny mistakes, parties or something like that? Was it complicated to work together depending on the Corona situation?
DS: For me sleeping as much as possible was a must, so I had no party at all until one of the last days. We squeezed the time as much as we could because we didn't want to be travelling again in the middle of this pandemic situation so we had to record an album, filming the documentary and our first videoclip,  and doing all the promotional photo sessions in just one month.
In relation to travel, we had to overcome many difficult situations: Prika had to take 3 flights until arriving to the studio and the previous day of the departure one of the flights was cancelled… we had to do our covid tests and we couldn't find a clinic because everything was all booked… but it was all worthy, we are very happy with the final result.
---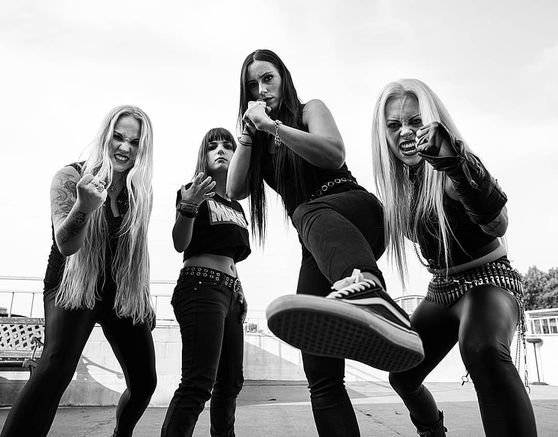 DZ: How was the writing process for "Perpetual Chaos"? Have you already been involved in this or did Prika wrote it by herself and then checked for new members to continue with the band?
DS: Prika asked to us since the beginning to get involved in many ways in this project, so she wanted us to cooperate with the writing sessions and that was we all did: Eleni wrote the drum parts, Mia the bass lines and I wrote the lyrics.
Obviously there was a couple of songs that Prika have written some time ago and we all made the arrangements with the helping hand of our producer Martin Furia that is one of the most amazing professionals that I've ever met. We had to write everything in the distance, working with internet and all the technological stuff that nowadays it's a great tool in this kind of situations.
DZ: I also saw that you posted a Nervosa Spotify playlist for albums that inspired while the recording? Can you tell us something about that and the bands featured?
DS: As I said before, we all came from very different backgrounds, but the classics are always there for all of us, so you can find bands as Sepultura or Slayer and then another more modern stuff as Septic Flesh, Behemoth or Misery Index.
---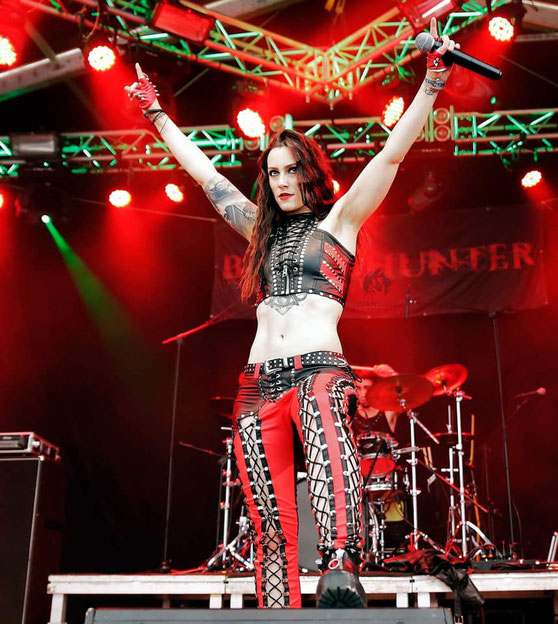 DZ: What do you think you bring to the table for Nervosa depending on Vocals compared to Fernanda? Would you say you tried to still keep the vocal style which was there on the previous records and get your style integrated with a more Death Metal orientated style like you are doing in Bloodhunter?
DS: That was a big question for us in the beginning because we wanted to stay true to the Thrash Metal essence of the band but my register was more related to the death metal, so we decided to try a base closer to the high pitch and then surfing to some deeps as I do with Bloodhunter.
DZ: What are you going to do live with Nervosa for your vocals? Did you already practise older songs and are you nervous to replace Fernanda as front woman as she was a beast on stage?
DS: I've played in some of the worst conditions in the underground scene and in some amazing venues aswell for more than 4,000 people, so that won't be a problem for me as I never got nervous on stage. Being in a band like this is a big responsibility, but I've been preparing all my life as a musician to face this new challenge that I embrace with all my passion. You won't be disappointed.
---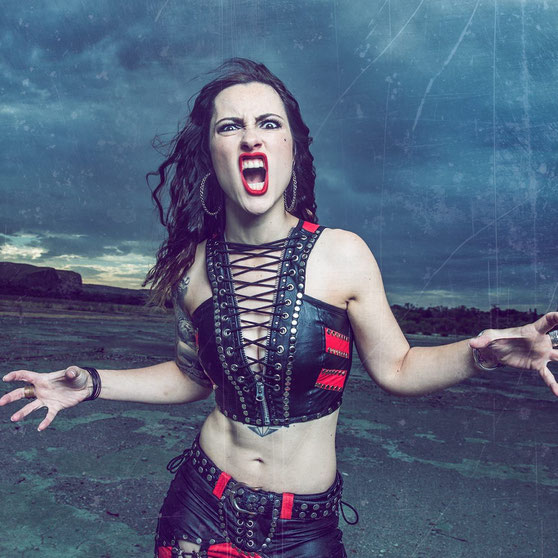 DZ: I saw already some some Festival Bookings for Nervosa. Do you have a lot of plans for Summer 2021 for an extend touring and support the new album?
DS: As everybody, we have a lot of plans but we don't really know what we could do or not. Hopefully this thing of the vaccination comes true and we can be back to our normal lives.
DZ: Let's talk a little bit about your past. When did you start discovering Metal and diving into the extreme world of it? When did you start practising extreme Vocals?
DS: Nobody in my family or close friends were fans of the rock or metal scene, so I just discovered one girl in a talent show performing "Livin' On A Prayer" of Bon Jovi and I instantly fell in love with that sound.
So every Friday I came to the record shop to buy a new album of any band that I've just discovered reading a magazine and stuff like that. It was not until my 20's that I've listened for the very first time the extreme metal scene and I must admit I got scared the first time that heard someone growling haha But with time, I got addicted to it, as with horror films… I got fascinated by the Black Metal scene and Dani Arcos just asked me to write some lyrics for one of his songs for Bloodhunter, so he encouraged me to try to learn how to growl. Bloodhunter was my very first everything!
---
DZ: I saw that you were featured in the spanish edition of "The Voice". Do you think this gave you and your band Bloodhunter much more attention in Spain and maybe around the world? And how was it to be on a mainstream format?
DS: It's amazing how many people see this tv show all around the world. The video of my audition became viral on internet and now there a lot of journalists that tell me that they knew me because of that. That's awesome because I couldn't get all that attention by my own self. That year we released our second album so we played at the biggest festivals here in Spain like Resurrection Fest, Rock The Coast or Leyendas del Rock.
DZ: As you are a Metal manic as I am by myself, I am always enjoying to explore new bands from the underground. Something you can recommend from the spanish extreme Metal scene nobody should miss out? What are the latest record you really dig personally?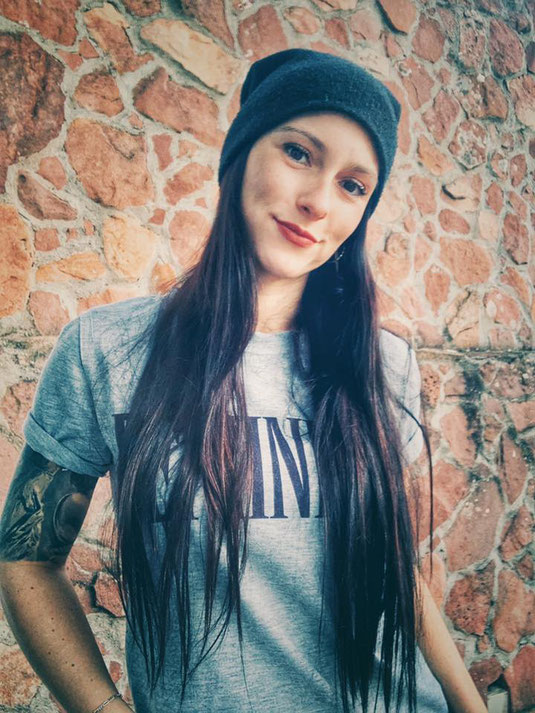 DS: Against the clichés, Spain has a lot of amazing projects in the metal scene. I could name more than a thousand but you can start with Barbarian Prophecies, Aposento, Astray Valley, Crisix, Ángelus Apátrida, IN MUTE, Mind Driller, Morphium, Death & Legacy… there are a lot of amazing ones!
I discovered recently one band from the USA called Imperial Triumphant and you definitively should check them out! I've never thought that such an interesting mix could exist. Their brand new album "Alphaville" is sick!!
DZ: As always in my interviews, the last words are on you. Something you want to share with us?  
DS: Thank you so much for giving me this chance of speaking a bit more about my projects. Hope you are all safe and that we can meet very soon in the live shows.
Stay metal! \m/
---
---
Nervosa - Guided by Evil
---
Nervosa - Perpetual Chaos Documentary Part 1
---
Nervosa - Perpetual Chaos Documentary Part 2
---
BLOODHUNTER - Bring me Horror
---
BLOODHUNTER - All These Souls Shall Serve Forever