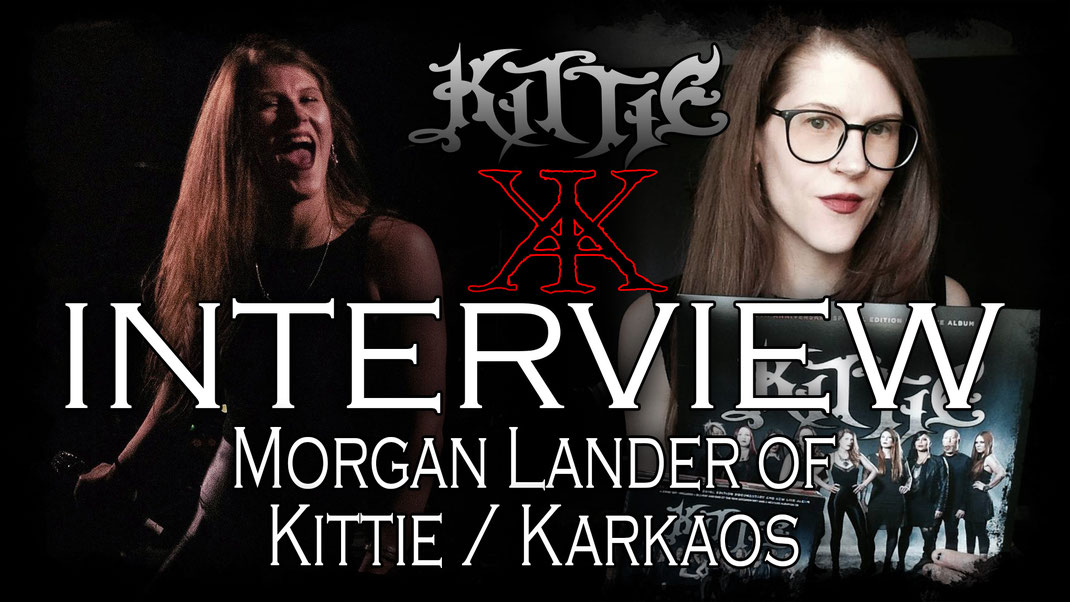 ---
D: Hi Morgan,
Thank you very much for being part of this little Interview with me on my Metal BLOG. Very nice from you for taking the time and the little fanboy inside of this 34 year old body feels like 15 again when I picked up Spit from Kittie back in 2000 haha. Sorry for the fanboy talk but I like to keep it very relaxed and funny in my interviews.
---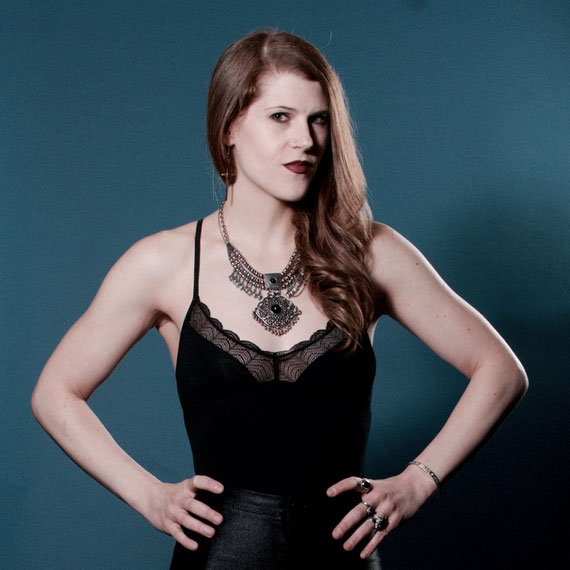 D: I came up to you for this interview because I saw you are active again with Karkoas as their new singer. Karkaos is a melodic Death Metal band from Montréal / Canada. As far as I read it you were mentioned as a long time band family member. How did that came up and when did the decision happend to join as lead vocalist?
Morgan: I have been friends with Justine the drummer for many years after we met on tour while she was with Blackguard.  The band was on one of our last tours ever along with The Agonist and we became great friends.  She is definitely one of my musical soul mates and over the years we have done a number of unreleased projects together as well as I contributed guest vocals on various projects of hers including Karkaos!  
I was featured on the song Kolossus.  So needless to say we work well together and have a great rapport.  When the time came for the search for the next Karkaos vocalist, she confided in me that it would be hard to find a replacement and out of the blue I just offered to do it!  Fronting a metal band with out the confines of a guitar has always been a dream of mine and after many years away from creating and music this felt like the right step for me.  
---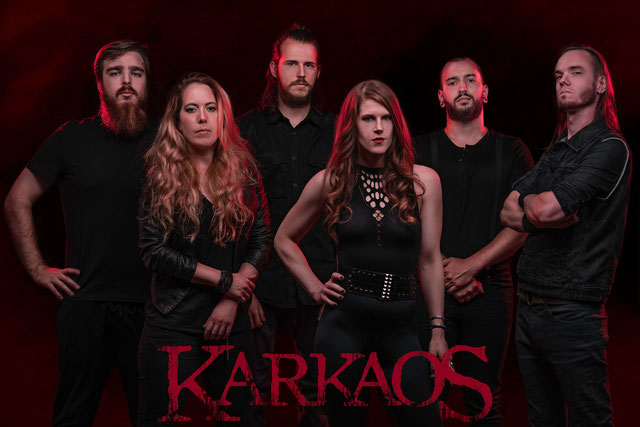 D: I checked some of the previous material and saw the VLOGs with you in that you will bring some more depth and darkness to the band. The material for the new album was already written when you joined as far as I understood it. How did you influence it and can we expect much more extreme vocals then in Kittie? Will you still do clean vocals?
Morgan: I am just bringing the darkness that has grown and resided in me for a number of years without a musical outlet! I feel as though even though most of the music was already written that I am still helping to shape the new sound of Karkaos.  
The band are incredible musicians and immense talents on their own but they are also incredibly respectful and want to make sure that I feel a part of the entire process and that means asking about direction of the songs, influences, and allowing my input.  These songs even though they are mostly finished, will be a work in progress over the next few months before we record so they are constantly evolving, albeit slightly.  As far as sound I am bringing to the vocals of the band I think it is definitely more extreme than what many Kittie fans may be used to but there will still be melody and hooks.  The music is brutal and heavy but there is definitely hooks and room for clean vocals as well!
D: When my copy of Origins / Evolutions arrived, I immediatly checked out the live show on it. Your vocal interpretations of songs like Spit, Charlotte or Brackish where much more extreme then on the original recording. Can you go with your singing much more extreme and explore yourself with Karkaos?
Morgan: I think with the live Kittie album, that most of what you're hearing is just the natural progression of my voice maturing and evolving over time.  You have to remember that most of what people feel is Kittie's classic sound was recorded when I was 16 or 17 years old and I have had a lot of touring and live experience since that time, so of course my voice will evolve into something stronger and more extreme.  So what you hear these days with Kittie is where my voice is at now and at a place I feel comfortable with.  Now with Karkaos, the task will be to reinvent what I already am capable of and try and take it as far as I can go.  I already feel that with age and experience has come a confidence I never could have imagined having 20 years ago so that definitely helps with the extreme sound.
---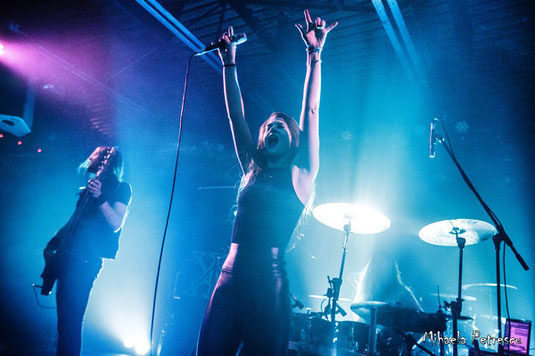 D: You have done the first two shows with Karkaos supporting The Agonist. How were the shows and how is it to be on stage again with a different band? Did you play live since the one time re-union show of Kittie and how does it feel to be back?
Morgan: The Karkaos shows supporting The Agonist in September were incredible and it was the first time since the Kittie 20th anniversary shows that I have been commanding the stage and it was an amazing feeling.  I felt as though I had been part of this band all along and it was really a magical experience.  I can't wait to do it again!
D: What are the future plans for Karkaos? Can we expect also an extended touring for the new album?
Morgan: Our first order of business with Karkaos is to record and release a new full length album.  We are all very excited to show the world what we have been up to and can't wait to share new music with new fans as well as old.  Once we do that then we can consider touring but it's definitely not out of the question!
---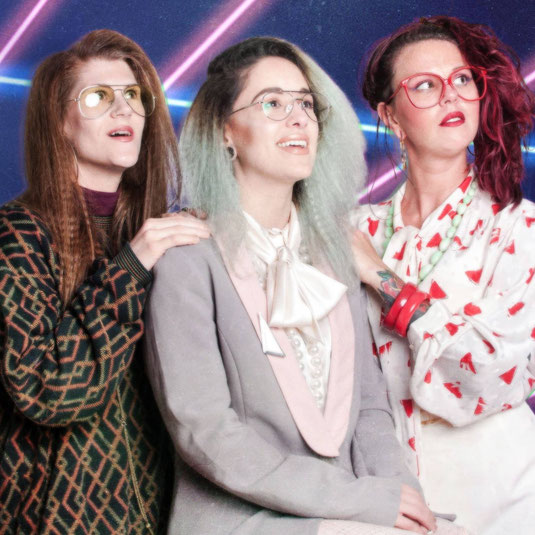 D: What have you been doing since the documentary of Kittie was released and the last show I mentioned in the question before? I just saw you are doing some horror podcasts called Witch Finger Horror Podcast.
Morgan: I have definitely been keeping busy in the years since the release of Kittie Origins/Evolutions.  That was a huge part of my life for a little over 4 years and it felt really good to release it and find the time to pursue personal projects.  We released a live album of the Kittie 20th Anniversary show, and I have been an active part of the horror community with Witch Finger Horror Podcast, which is a monthly podcast I run with 2 friends of mine.  
We typically cover 80s horror movies and it is such a fun and rewarding venture.  That is mostly where the rest of my time lies other than with music, but I always love to keep busy. 
D: Are you a big horror fan for years? How did that came up with the podcast?
Morgan: I have been a huge horror movie fan for many years and grew up watching movies from the genre so the podcast felt like a natural progression.  Often as a group the girls in the podcast and I would get together to drink and laugh at some of the best worst movies out there and we thought it would be a fun adventure to record ourselves.  Essentially it was the idea that "we think we are funny and have a lot of fun doing this, maybe other people will as well?" And so the podcast was born.  It has taken a number of years to build up to podcast to where it is now but we have a solid following and always have a blast together.
D: I saw on your Instagram profile that your are collecting VHS tapes. Very cool because I like it oldschool as well. Is that a big hobby of yours and how many movies do you own? Some special rarities you want to mention from the collection? (I still have the Braindead VHS in the collection which I ordered in 99 from Switzerland because in Germany there was no uncut version, haha.)
Morgan: I do collect vhs and in all actuality have only really been seriously collecting for a few years.  It's a slippery slope though and it's so much fun and easy to get caught up in the thrill of thrifting movies or finding them at swap meets and collector events.  Many of these movies I own are classic to me and there is a lot of nostalgia associated with them, including the cover art!  I have around 400 movies and I am constantly adding more to my collection.  I'm not sure if it's special to other people but I am very fond of my copy of R.O.T.O.R. hahaha!
D: You did a live podcast with Witch Finger on October 5th in Toronto. How did that came up and what was the idea behind it? Did you have a good time?
Morgan: We have done a number of live podcast shows before and it's always a really great interactive experience.  To really get a feel for what we are about with the podcast you have to come out to see us do our thing live!  Most of the live shows in the past were done at conventions in the area so that has definitely helped to grow our fanbase, but this show we did was our very first live show on our own and the turnout was great!  
D: What would you say are your all time favorite Horror movies? Classics to mention?
Morgan: Some of my favourite horror movies are Return of the Living Dead, Night of the Living Dead (1990), Fright Night, Near Dark and Hellraiser, just to name a few!
---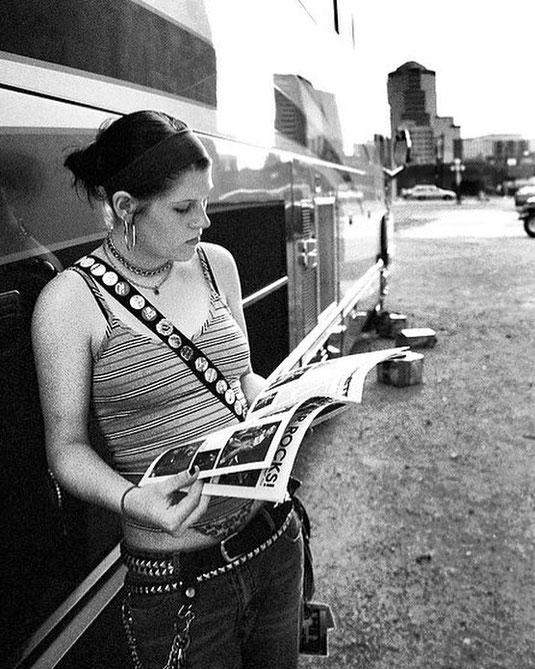 D: Let's go back a little bit in the past. I guess most fans saw the documentary and followed you on your path with Kittie. How do you look back on that time in your life? Do you miss it?
Morgan: I look back fondly on that time of my life of course.  I gave my heart and souls for the music we created, it was my passion and the driving force in my life for more than half of the time I have been on this earth so far.
So even though there was as much tragedy as their was triumph as far as Kittie was concerned, the experience I had in the band made me who I am today and for that I am a better person.  I wouldn't change anything about my experience and I am so honoured that the music that we made was able to impact other people in the way it did.  We did more than entertain; we changed lives and helped people through tough times, empowered people as well as gave a voice to the voiceless and for that I am truly grateful.  
D: Do you think we can expect somewhere in the future new material from Kittie? Do you still have some more fire for this inside of you?
Morgan: As of right now there isn't much on the horizon for Kittie but never say never!
---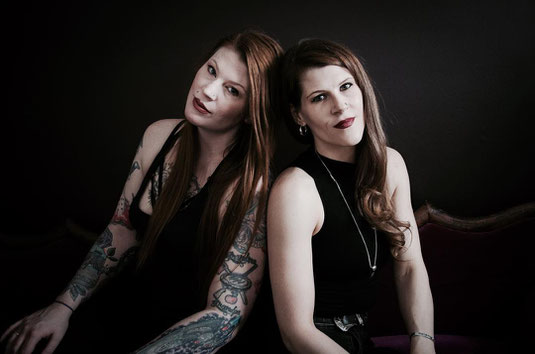 D: How is your sister doing? You still have a lot of contact? I followed a little her work in The White Swan. Are you discussing of new Kittie material from time to time?
Morgan: Mercedes is doing great!  She is happy and working on new projects herself.  We see each other pretty often and it's always lovely to catch up too!  The White Swan is a fantastic band and I am so proud of her for taking that huge and probably slightly uncomfortable step and fronting a band.  She makes fantastic music and I can't wait to hear what they do next.  
D: What I always wanted to know, what was the Idea with the Angel without wings in the Charlotte video? How did that came up and were you all involved in the directing of the video? (still one of my all-time favorite songs)
morgan: The idea of the video, as I recall, came from the director who was fantastic and had some really exceptional concepts about the band and the meaning of the story behind video.  I loved that the ending was so controversial that we actually had to change it to be accepted to be played on MTV.  That was certainly a proud moment!
---
D: You played a lot of big festivals like Ozzfest in the beginning of your career and experienced nu-metal in its' prime. What would you say changed over the last 20 years beside social media, illegal downloading and streaming? Is it also for you much harder as an artist to earn a living with your music?
Morgan: Over the last 20+ years, the entire industry has shifted and evolved with the new technologies that now have become common Place, and went through an overhaul with the advent of streaming and downloading, and also with the rise of social media.
Things change and you always have to try and keep up with the times to stay afloat, and while I feel like we did a great job of that, I do think there are also a lot of downsides to some of the technology we see today.  It's a huge topic and one that entire books have been written on, but I do see pros and cons with the way that band's can achieve success and have visibility these days.  While it is much easier to have a presence for instance, that also means that there will be oversaturation.  It's hard to say whether or not it's easier or more difficult for bands in general to make it or make a living these days but I can speak from my own experience when I say it has certainly been more difficult for us.
---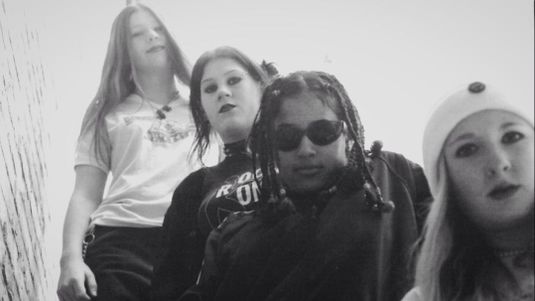 D: When you could start all over again, would you do things different in your musical career?
Morgan: There are definitely things that I can see now as an adult that I would have approached differently in the past, with a different attitude perhaps or with a kinder or softer approach.  
A lot of interpersonal stuff early on I probably would have attempted to approach in a different way too but for the most part I feel as though everything happens for a reason, and my experiences have made me who I am today and I rather like myself.
Hindsight is always 20/20 and not much can be done to change the past.  One can only look forward.  I don't look back with sadness or sustain, I have had a pretty incredible life and sometimes I wonder how and why it happened to me!  It's been a pleasure and an honour and in keeping with the theme of moving forward, I want to continue to create music that inspires myself as well as others, and pushes the limits of what I feel is comfortable or safe to show the world what I am truly made of, to wear my heart on my sleeve and create raw, moving art.  I am just getting started!
---
At this point I want to thank Morgan again for making this possible. I am very thankful that I had the opportunity to ask some questions about her crazy life. I never thought about that when I picked up Kittie's Spit album back in 2000 and following the band since then.
Do me a favour and support her on the upcomming journeys with Karkaos and her awesome Witch Finger Horror Podcast!!!
Cheers Zed
---
---
Kittie Charlotte Live at the London Music Hall Original Line Up
---
Karkaos LIVE @ Théâtre Fairmount
---
Karkaos Ravage live in Montreal
---
Witch Finger Horror Podcast - Episode 44 - Friday the 13th: The Final Chapter
---
Kittie - 20th Anniversary Documentary Trailer
---
KiTTiE - BRaCKiSH
---
KITTIE - Cut Throat