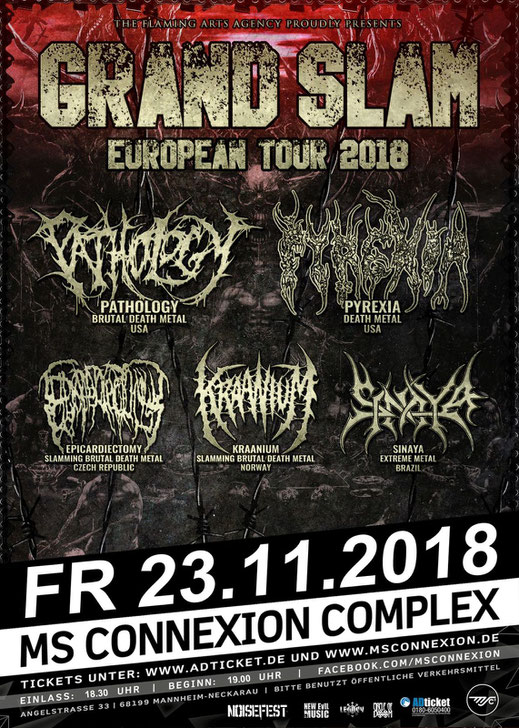 It was a cold friday evening when I rushed out of the Office to make it in time from Stuttgart to Mannheim. Like always on friday the A81 and A6 Autobahn was stuck like hell and I didn't make it in Time. So I sadly missed nearly the whole show of SINAYA. 
Good thing is that I found a parking lot very fast and could get in. Thank you at this point to Sergio of EPICARDIECTOMY for setting me on Guestlist. You rule brother!!!
What I saw so far from SINAYA the ladies were doing their job just totally great in delivering some oldschool Death Thrash or how it is described in the Flyer "EXTREME METAL".
I was there to record the whole show so I made it at least to record some minutes of them as you can see in the Video below. After that it was time for beer number one after the fucking drive from Stuttgart. Traffic jam always gets me pissed, haha!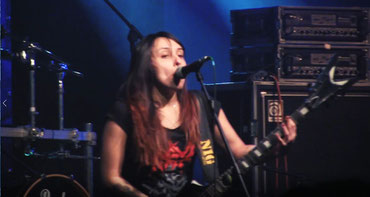 ---
SINAYA
---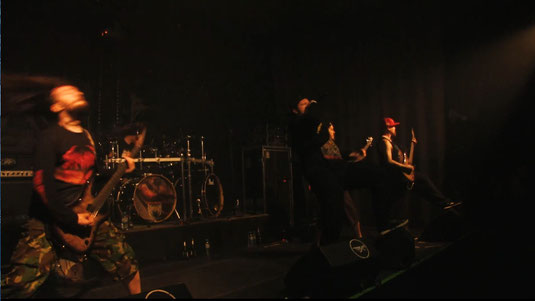 After slamming down the first brew I had some quick talks with random people I know, also at the merch tables. Bought immediatly some stuff from PYREXIA. (I couldn't resist the Sermon Mockery Longsleeve...damn <3)
While KRAANIUM was finishing to set everything up I also got ready to tape just in time. They delivered a nice set of songs from all albums so far as I recognized it. 
After the show I also had a talk to the new singer, since Martin passed away, and he was a really nice guy to talk to and also did a great job on stage. He even could say the whole "I fuck retards...PHDs...and so on intro." Very funny. You can check it in the live video below. Very satisfied it took me again to the bar to fuel up again before EPICARDIECTOMY came up.
While waiting I was also thinking about seeing KRAANIUM without Martin. Was really a strange feeling. I knew the SLAM TWINS for many years so far and also taped them 2 or 3 years ago. How fast shit can end...damn!!! :(
---
kraanium
---
EPICARDIECTOMY was up next and I quickly prepared my second camera for recording also the drums. Milan, the drummer of EPI took it and they placed it really nice behind the kit. You can see that as well in my full video show under the EPI Part of this report.
They started straight ahead and SLAMMED everything in the ground. Like I also said in my review about the new album. This shit is just fucking heavy! To be primitive and brutal all the time while pushing this genre to its limited limits. I know it sounds stupid but that it is.
Ten Ton Hammer riffs. Blasting and double base massaker drums with ultra guttural vocals. It is the CEPHALOTRIPSY style from the debut album in musical perfection. Also brought to you live with a jack hammer in your face. I was pretty satisfied after this and needed my last beer before I had to go alcohol free for drive home, haha! 
They definitly showed me some HAMMERS! :P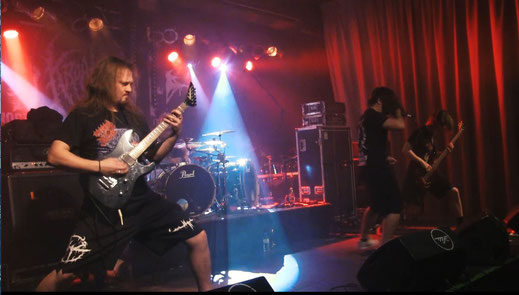 Sergio and me after show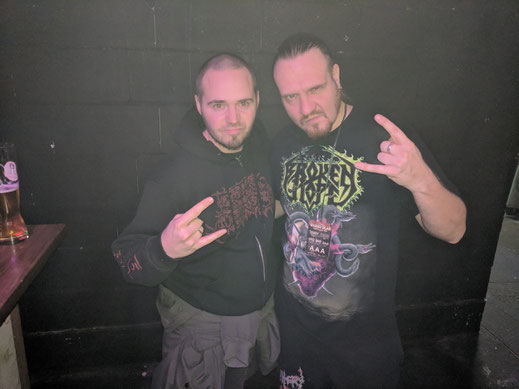 ---
epicardiectomy
---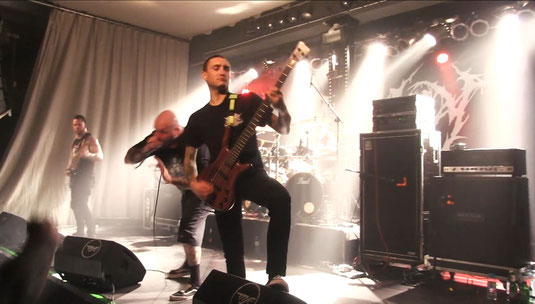 After getting a non alcohol beer down(for sure was not that tasty...there are good ones but sadly not in that venue.) I went in front of stage the other side talking with Sergio while the gig and having a good time. With my other hand I was holding the camera on a holding stick.
So don't be angry when you watch the video. It will be steady for the first 15 minutes and then I started zooming when my friend went backstage.
Pathology did their thing like always. I have seen them a couple of times in different line-ups. Obie Flett of INHERIT DISEASE did a great job on vocals and delivered the Sickness. Also the other musicians were tight on point. Dave Astor like always. Never saw this guy playing bad drums since I started following his career starting with the first CATTLE DECAPITATION album.
I remember a cool thing when they played south west Germany some years ago together with OBITUARY and they stayed a day longer and partied with all people in the ROCKFABRIK in the town called Ludwigsburg. Really cool and easy going guys!!!
Their set overall was tight, short and satisfying. Quickly I changed my SD card in the cam to be ready for PYREXIA and get my last alcohol free Beer before drive home. 
---
pathology
---
So PYREXIA entered the stage and I was ready for a crazy show! I haven't seen them in some years and last time with the old Singer which went to jail for homicide I guess but I don't know details so I won't go on with the topic.
On vocals now Jim Beach of TOMORROW'S VICTIM who did a really great job and delivered the vibe which New York Death Metal is making it so beautiful.
The Grooves, the SLAMS, the Rhytmes and overall great atmopshere. All was there to move your body and bang your fucking head. PYREXIA is nothing less then a godamn GROOVEMONSTER  delivering since beginning of the 90s and never disappointed!
Also not this time. Everyone in the crowd was just having a good time while the show. Playing was on point and keeping up the energy as well.
Great was that at the end to SERMON OF MOCKERY classic everyone was invited to come on Stage and people did it for sure. The energy between Band and audience was wonderfull! A perfect end to that night of awesome killer acts!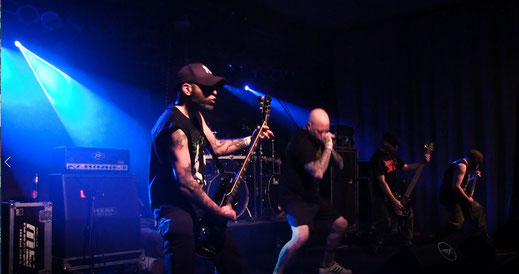 people getting crazy with pyrexia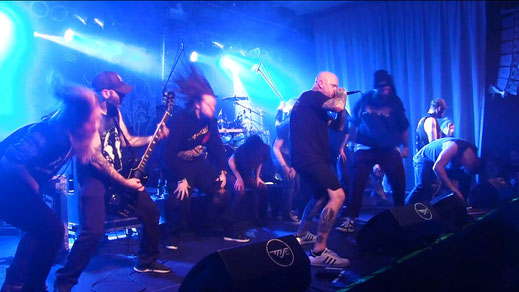 ---
pyrexia
---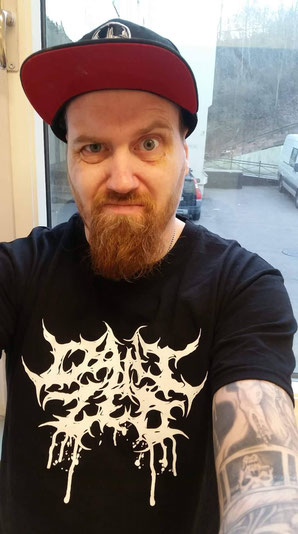 After the show i was talking a little bit with my friend Sergio from EPICARDIECTOMY, Milan of EPI and Jack of KRAANIUM. We had a short good time before they had to leave early with the tour bus to get to the next venue. They had to drive pretty far for the next show.
I gave them my last DANI ZED Merch Shirts for support and received also a Pic of Mats of KRAANIUM wearing it. Thank you brother!!!
Overall it was a crazy and great show. Sadly not so many people showed up, even it was a friday. Come on Mannheim...next time show what you got!!!
I took my car and drove Home satisfied. Best thing was NO TRAFFIC on my way home and I made it in 1 hour!
I hope everyone reading this enjoyed my little report and the showes I recorded. 
Please give a THUMB UP on YOUTUBE and leave a comment here if you like BLOGs like this. If so I will come up with more like this.
Cheers and Good Night! ZED \m/ 
---