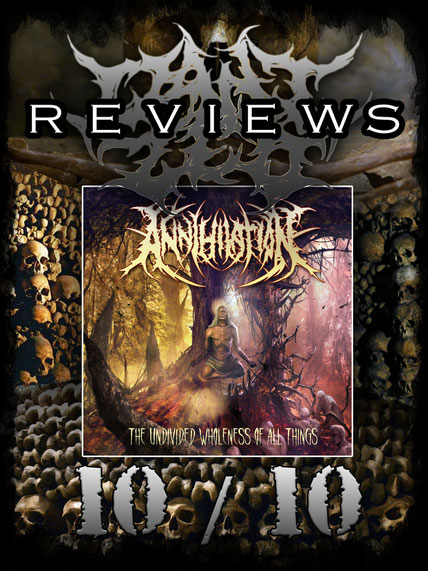 Epic and darkened Death Metal is comming from the hot hells of Lisboa Portugal. Portugal a weapons wrought for secret and high quality Death Metal hints is also delivering us this gem. The sharp sword is called Annihilation and they unleash it's brutality with the album "The Undivided Wholeness of all Things".
Released on Nice to Eat you Records from Czech republic and also Amputated Veign for Asia region.
The band was already founded back in 2004 and has a debut album called "Against The Storm" and a digital Ep "The Undivided" in their disco and released the mentioned album here in 2017. Maybe a late review from my site but it is never to late to talk about great and massive music. Massive describes this album perfectly. It has a wide and epic range of oldschool death metal from the atmosphere and a lot of technical detailed musical parts from newer era to create a perfect hybrid of modern, darkened death metal without losing the wibe of oldschool, depressing darkness.
It all starts with an epic opus called "M.A.S.S.". Perfect title because it is an instrumental and massive heavy song. It soaks you into it's atmosphere within seconds and that is what you can expect from the whole album. The 8 tracks are like a wormhole of heavy, downtuned brutality with a high caliber of songwriting. Even while the blasting drum parts, the atmosphere within is never lost and depressing all the time in a good way. You always want to slowly headbang the shit out of your neck and raise the devil's horns. This record is pure gold in the creation of evil!!!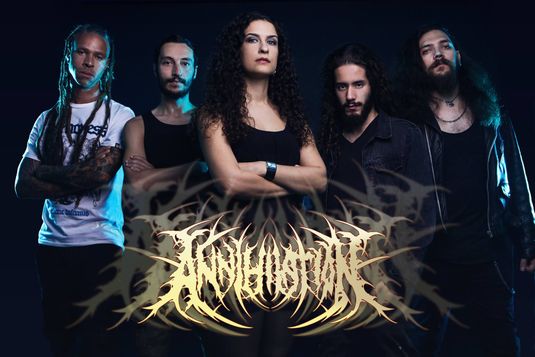 I am a little confused by the recording line-up and actual live line-up. When I checked the pictures from the band they have a female singer called Sofia Silva but she is not featured on the studio line-up. On the band pic in the album she is. The singer in the studio is called Diogo Santana. So I think we are not hearing her sick vocals on this record and I have to check some live stuff on the web. I will add a video under this review if you are reading this on my blogs page.
If we stay at the vocals, they are very deep and dark. Not froggy or you know a "Bree Bree" voice. Just rough and heavy like the rest of the record. Everything is running perfectly together like a well oiled machine. The songs on this running smoothly through and transport you to a different dimension. This is where the progressive elements of the songs are showing their effects. The long epic songs, like "Emptiness Defiled" which is 6:36min long are showing what this band is capable of and you can find a lot of different layers to explore.
The only thing I can just say in the end! "WELL DONE" and "CONGRATS". One of the best albums I heared the last months, even if I discovered them a little late.
Thanks for this point to Vladimir of Nice to Eat you Records for sending me this release of your label. You rule man!!! \m/
I recommend this for every fan of heavy and dark, depressing Death Metal. If you like Immolation, Incantation, Deicide, Morbid Angel, Behemoth, Hate Eternal, Hour of Penance, Obscura and bands in the veign of this is pure gold!!! Check and support these guys (and woman)!!!
10 / 10. No doubts. Just epic….cheers Zed!!!
---
---
LIVE @ Xxxapada NA Tromba - Rca Club , Lisboa , Portugal 19-01-2019