Swiss 6 piece Band CONSUMED BY VULTURES is delivering an atmospheric and brutal Death Metal Epos called "In Eterno". The band was already formed back in 2013 with the idea to express their art as musicians through extreme music. They have a nice description for all of this on their facebook page in the biography. Also the name of the band is a traditional funeral ritual to sacrifice the dead body to the vultures and give something back to nature.
The album was already released back in September 2017 on Nice to Eat you Records and Amputated Veign Records. I just received the CD in the NTEY promo package and the CD is definitly worth doing a late review!
They also have a previous release from 2015 which is called "Demonstration of negative way". This is a 6 track EP and I will try to link you here a video to check out of you are reading this on my BLOG. Both albums are also available on SPOTIFY.
---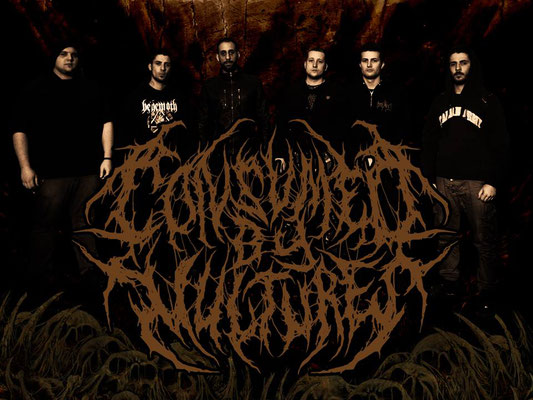 The 10 Songs on the album are written on a really high technical standard. Thoughtful songwriting and a good mixture of atmosphere in the songs, including brutal elements, grooves and different speed. Most of the songs run between 3 and 5 minutes of length. So no real Death Metal progressive Opus songs which take about 7min+ but you have this feeling of a progressive touch in the sound that you think they could. The music is always on point and you can expect a top notch production and mixing. (Mixing was done by the Guitarist of CRYPTOPSY in his canadian studio "The Grid")
Songs like "The Choice" have a nice changing between the groove loaden start you want to mosh your head and more speed induced parts with a nice spice of brutality. You have a big mixture of different influences in the sound of the band. Beginning from more classical and heavy death metal bands like MORBID ANGEL, HATE ETERNAL. Then you have some grindy elements depending on the agression and whipping riffs. Also  good portion of more modern Death Metal and Slam from bands like ABORTED, BENIGHTED combined with KATALEPSY, ANALEPSY.
---
They are doing their thing very well in combining the different influences in a sound which is not ordinary. They create tracks which have an own sound and which are not depending on comparisons. Sure you can relate to other bands to have a little outlook what you can expect but the depth of the album they created is much more. Even some ambient and more black metal influenced parts are thrown in. This really creates a thick and goosebumping atmosphere you just have to experience on your self. 
When you just started to relax in the sound you get ripped out from headbaging songs like "Kill to be Supreme". You wouldn't expect that after hearing for the first time. You really have to experience and explore. When you are going deeper in the record you will find more and more edges which are intersting. Starting from the great chosen vocal changes between screams and guttural growls, rhythm changes from grooves to blasts and the intelligent use of ambient elements to soak you down in the stream of this musical massacre.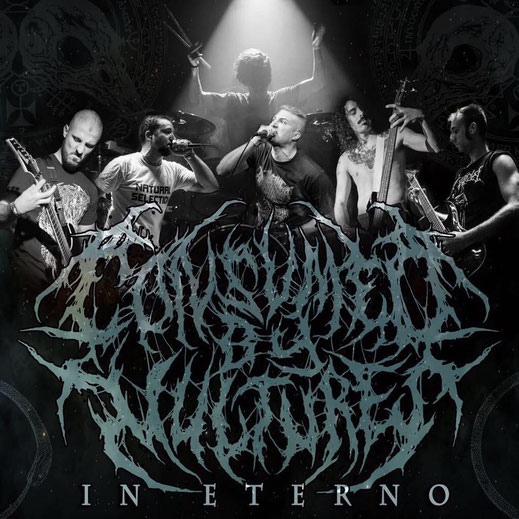 ---
I recommend this for all fans of the bands mentioned before in the review and every fan of modern influenced groovy DEATHGRIND! You will not be dissapointed. This album is really a great discovery and worth a late review!
9 / 10! Cheers and Slam On!!! Zed

---
BEHOLD THE DEVASTATION [OFFICIAL MUSIC VIDEO] (2018) SW EXCLUSIVE
---
Full Show @Living Room Switzerland 2018