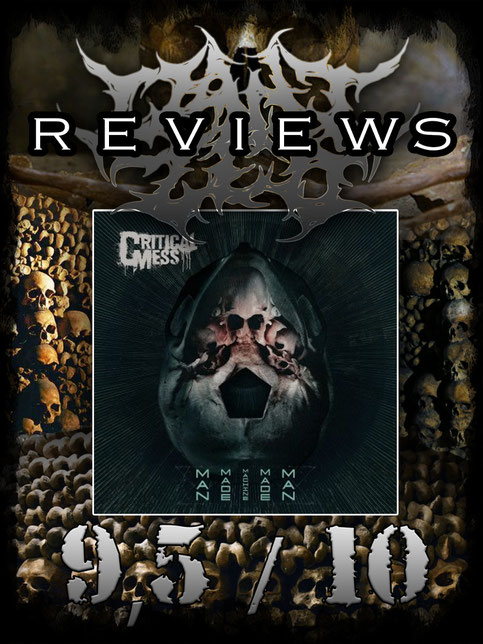 Just one year after their great debut CRITICAL MESS is back with their second Full Length called "Man Made Machine Made Man". Stronger than ever I would say and freshly loaded with a lot of energy. What they were missing on "Human Praey" they definitly found and developed on "MMMMM". (A nice anagram btw). I definitly have the feeling that the first album was the warm up and now they hatched from the hive to show all their abilities with their natural developed sound.
11 songs, 48 minutes of pure Death Metal devastation. The album starts with the song "Revolution 5" and after a fast tention building intro of marching sounds the band fires straight out of speakers their harsh and direct sound. Furious blasting, technical riffing and deep barky vocals. All combined to a great mixture but when you thought you know where this is going you will be satisfied by the diversity presented. I say this because the band is not just focusing on creating brutal songs instead of that they always know when it is the right time to throw in some groove or speed changes. This keeps up a high dynamic within the compositions and carry you very smooth through the album. The overall created dark atmosphere is also a big point to this album which wraps everything up like in a black coat in a cold winter night.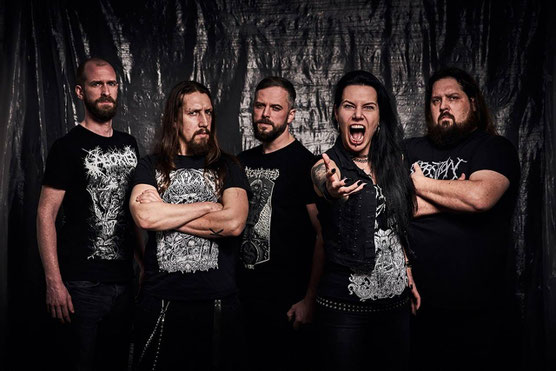 From the songwriting the musicians elevate themselves definitly to the next level. Each song acts much more experienced and enhanced. The band is also not shy to throw in some elements and different styles to add different layers and depths to the songs. In my opinion they just let go and the magic happend with natural and organic growing of a band. Possible that also the enhanced touring with Six feet Under, Hateshere and Sinsaenum brought some new ideas and fresh wind into the writing process. This is a good keyword because the guitarist of Sinsaenum/Dragonforce, Frédéric Leclercq, is playing a guest solo on the song "Bias".
If we are already on the guest appearance topic, on song 9, " No Gods", there is also Julien Truchan of Benighted throw in some of his remarkable froggy Breeeeees. Overall some really cool adds to an already complete album. 
---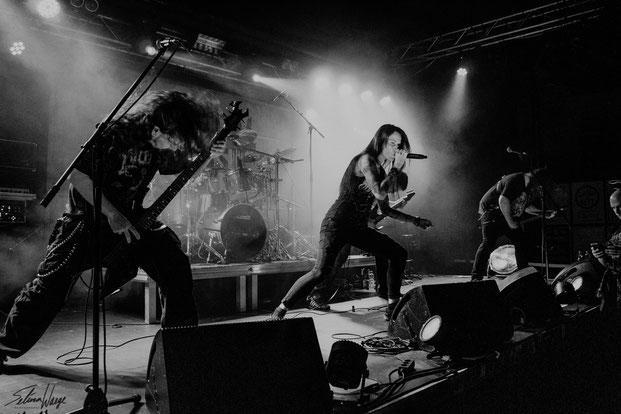 Also Britta let loose from her Cripper roots and explores much more of her extreme vocals she can deliver. It is dark and heavy, deep and gruesome what she gargles out of her throat. Sometimes I even thought some oldschool early 90s goregrind influences to hear but just a slightly touch. Something like if Destruction, Carcass and Cannibal Corpse raised that woman in some kind.
That is also my next point I would like to mention. You cannot deny the roots of Death Thrash music to this band. You always feel this foundation with a lot of brutal topings and modern influences. In songs like "Andr" I really felt the vibe of bands like Defleshed from the Fast Forward album era. Very cool influence I really worship!
Before I lose myself in comparisons and putting together a collage of band fragments to show you what it sounds like you should try for yourself and check out the first single "Cut the Cord" the band just released a music video for. If you like that you will know where the album goes and you can order a blind copy from the band. You will definitly not be dissapointed but surprised at the same time. The band brings much more to the table as expected. With that album loaded in the canon others can start looking for cover or get blown away. I warned you!!!
9,5 / 10. Harsh, edgy, grindy and full of groove loaden Death! Enjoy!!!
Cheers Zed
---
---
Cut The Cord
---
INterview with lommer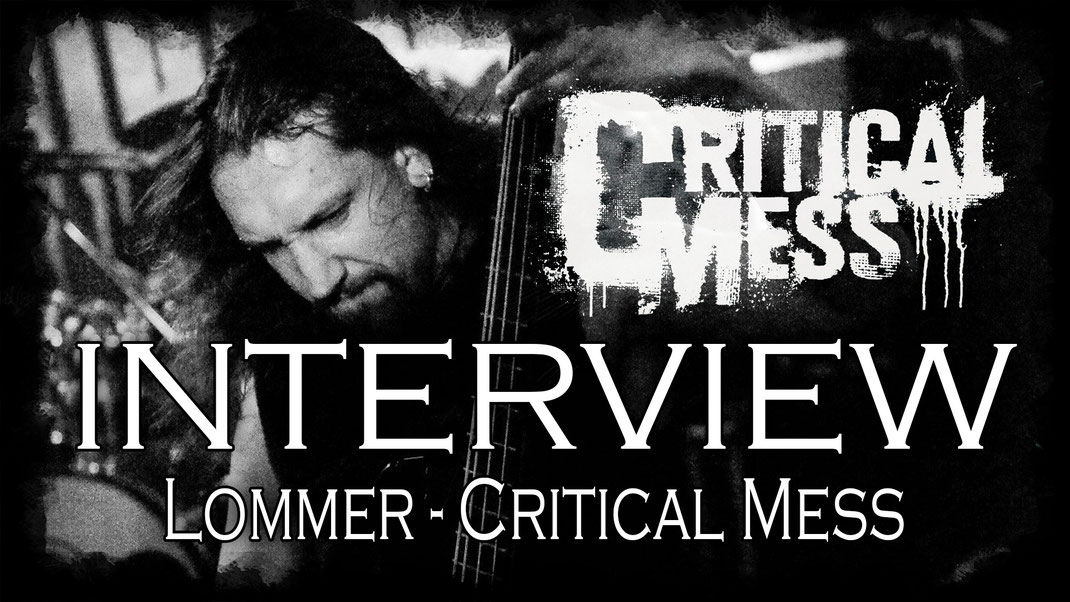 ---
Pansperm
---
feasting
---
Into Oblivion