Germany's finest Death Dealers DEFEATED SANITY devastate the world's minds with their latest output "The Sanguinary Impetus".  Now as a 3-piece band but not less leathal. If you heard their previous stuff, expect a mixture between everything but still different in an experimental way.
Now with Lille Gruber not just on drums but also on the guitar it is like an artistical explotion comming together. His known sick and virtuose drumming is also feelable in his written riffs. The album is super diverse as expected but I think he needed this kind of jazzy songwriting to feed his needs being a musician.
The 9 tracks are everything but not easy accessible. It's crazy, it's brutal and confusing in a good way. The album starts like a metronome on drums getting faster and faster before collapsing in a total weired mixture of rhythms. So the opener "Phytodigestion" is not friendly at all, not using any lube for your butt.
The album goes on with relentless brutal riffs, drumming and grooves. A real proof for their outstanding musical abilities is to keep the harmony going on while the songs are a total confusing mixture of rhythm and speed changes.
With Josh Welshman on board and hearable for the first time on a DF record, the vocals sound super sick, guttual and strong. Bestly compared to one of his idols AJ Magana, ex-Disgorge / ex-Defeated Sanity, who also delivered guttural insanity on the Chapters album. 
---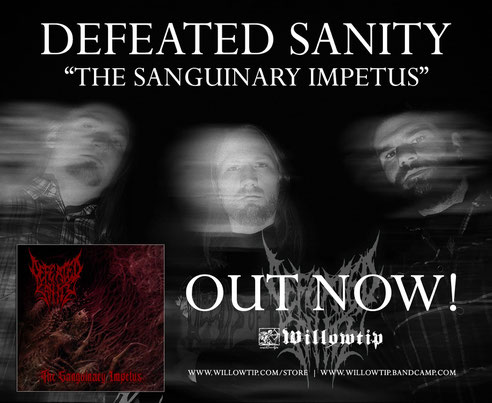 The interaction between all instruments and vocals just set perfectly and you never experience something you would say it is on a wrong place. I guess just the only problem for most listeners will be the access to the album. As I mentioned before it is everything but not a album you can digust easily. It needs to hurt from swallowing, going through your stomach and gut until you shit it out with pain to understand the whole thing.
Maybe this is a little harsh comparison because listening is really fun when you are in the mood for harsh and sick technical Death Metal, but for me it needed a couple of spins to understand the whole thing in its entirety. Probably some of you will agree with me some of you not but for all fans of the band this is definitly a blind buy. You will not be disappointed!!!
Also a very sick fact is that the band made it with their album to the official billboard charts what is very awesome with that kind of music which is so away from the mainstream. Big congrats my friends from my site!!!
For me this album is a 9 / 10. Before you start stoning me to death I will explain why i took away one point and again we are at the accessibility. For me it is not an album I can listen all day to or every day. I need to be in the mood to and I think this was also the goal of the band. It shouldn't be easy, it should be a hard and stony road which is rewarding in the aftermath. Go grab your copy from Willowtip records and make your own picture of this defeated Insanity!!!
Cheers Zed
---
---
Imposed Corporeal Inhabitation (Official Music Video)
---
Propelled Into Sacrilege
---
Propelled Into Sacrilege (Bass Playthrough)
---
interview - Josh Welshman - Podcast Edition