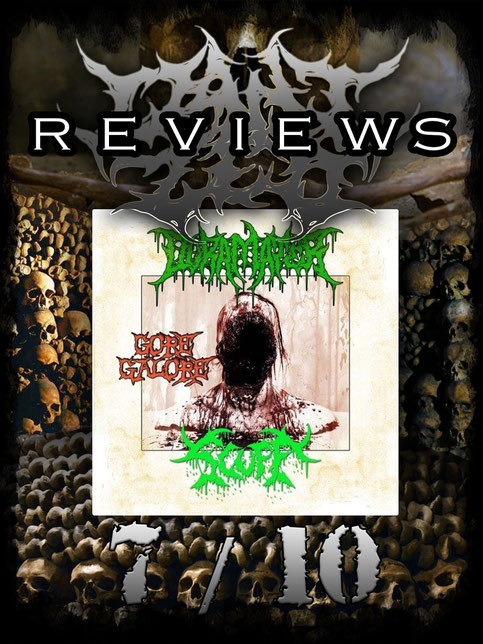 Dirty and perverted German Porn Gore is awaiting on this Split CD called "Gore Galore". Groovy, downtuned and oldschool as fuck. The two bands Duramater and Scuff shit on every uptight people without any sense of black humor and that is a good point. If you are not an open minded person who is offended immediately by dirty and rotten stuff, just stop reading right fucking now!!!
Released was this piece of filth on Clabasster Records.
So, after sorting out the weak softies we can continue to go deeper inside of the mud this record is throwing at you. As mentioned in my previous review for the last album of Duramater, their material is much more enjoyable when you understand German. The intros and samples are dirty and funny as always. Those will just put a smile on your face while listening. "Let the Balls roll and the Tits swing" is the motto of the record and nails the definition perfectly.
The record directly starts off with an intro of a hooker talking about her special perferences and prices to the offerings. This brings you right in the mood for the whole record. I guess for me as a 90s oldschool goregrind / porngrind listener it was much more easy accessible depending on the fact I know when this kind of music came up and with which kind of prepubertal humor you need to see this. So pull the stick out of your butt and let the madness overcome you. (Leave the stick where it is, when you parked it there for fun reasons! haha)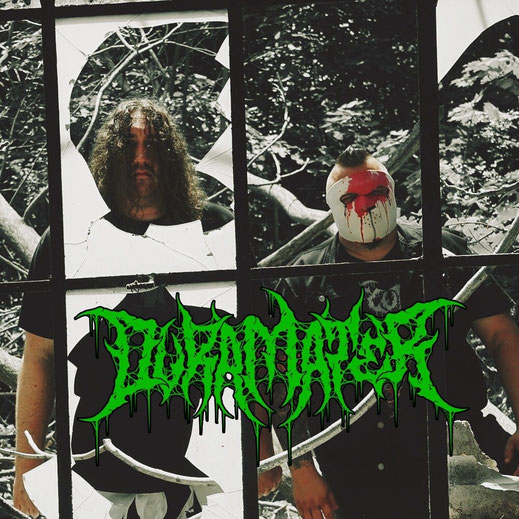 ---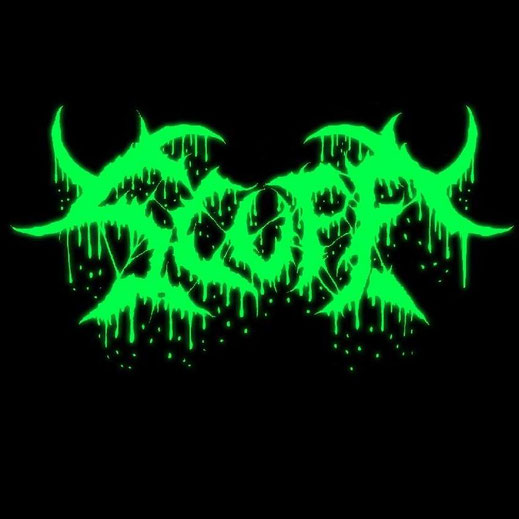 Besides that if you look on it musically based, it is solid and groovy goregrind. Oldschool as fuck as mentioned before, this could have been recorded and released about the mid or end 90s. If you are a fan of this kind of music, you can buy a blind copy of this record, no doubt!
Even the 3rd song of Duramater, "Graffiti-Toxic-Sucks" feat. Jinzx, is a 90s influenced electronic rhythm driven track.
Both bands bring over the nearly 27min long split the same well played gore brutality. It is easy to bang your head to or enjoy it live at a show.
I always loved this raw and pure kind of brutal music played live because it just fucking works to get into it even you are drunk as fuck, haha! Beer tent approved for sure!!!
So you are in the mood for a porn gore party, you can put this record on, run in circles and get wasted. In the words of the Underground - "ONLY GORE IS REAL!"
7 /10
Cheers Zed
---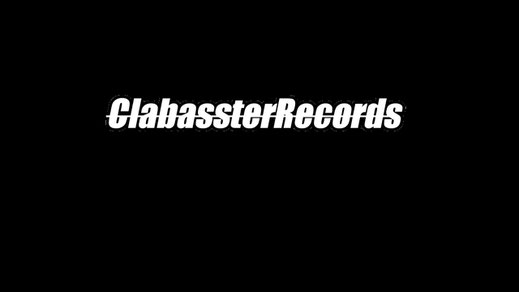 ---
---
Duramater & Scuff "GORE GALORE" Split Teaser