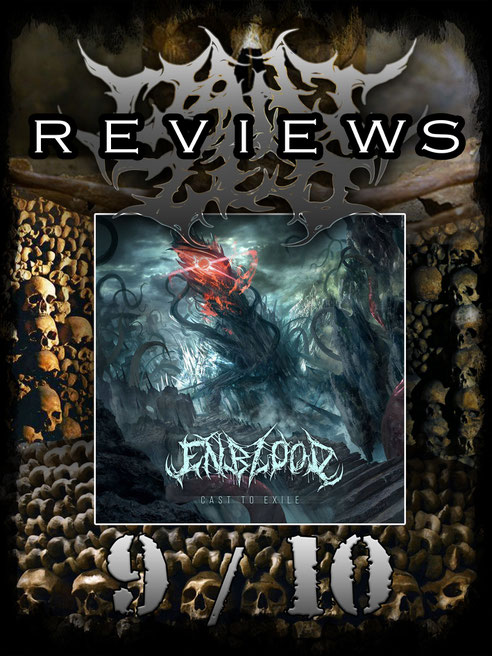 Technical and modern Death Metal from Portugal is crushing our skulls. The band ENBLOOD surprised me with a real killer and clean album called "Cast to Exile". Released on Miasma Records and Vomit Your Shirt these guys didn't come to make any prisoners. Enblood is ready to take their piece of cake they deserve from the scene.
Cast to Exile starts right ahead after an Instrumental with the title track on which even Linus Klausenhitzer of Obscura is featured. And exactly the direction of Obscura they are heading to. Those guys are no copycat, don't worry, but just that you have an expression what you can expect on this album.
The 4 piece band released a single back in 2016 called "Oblivious Hate" which is also featured as track number 4 on this album. The re-recording of it was very good and took the song to the next level. Also the band learned some more tricks between the single and full album. Enblood understands to combine elements from 90s scandinavian Death Metal bands like Dissection, At The Gates and Children of Bodom with harsh technical approach of Necrophagist, Obscura and bring everything to a fresh and modern sound of today. They adapted very wisely and it just sounds great when you dive into the different songs. Good example is the song "Strayed Path from Dementia". It has all those elements mixed and none of them feel pushed or too strong. Everything is very well balanced.
---
The album isn't easily digested and you will need some more spins to understand every edge of it but I think it is worth to invest the time. It's not a hard to read book like the Obscura albums but pretty close. I really enjoyed it the most when you just concentrate on it while chilling on your couch to a drink.
Let the music come over you and bring satisfaction. This is definitly no album you can fully enjoy while listening half hearted when you are working and it's running in the background. Also this fine material deserves your full attention my friends!
---
If you are a fan of the mentioned bands and like a good swedish sound mixed with technical claim, your just right here. Everything at a real high standard, starting from song writing, recording and mixing. This album is a real diamond for fans of this genre and you should definitly not miss out!
9 / 10 for a great trip into the virtuoso world of Enblood. I am very excited what these guys will bring in the future!
Cheers Zed
---
---
ENBLOOD - 'Cast to Exile' Official Full Stream | Miasma Records