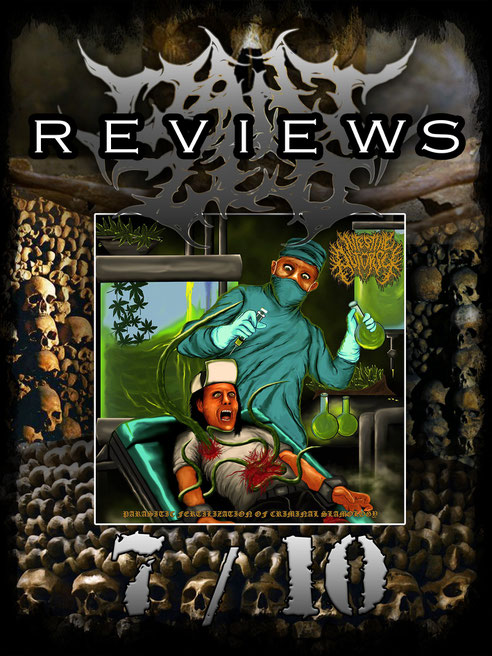 Rotten Music releases another sick EP from the Band Intestine Autopsy called "Parasitic Fertilization of Criminal Slamology. The turkish 4-piece band punshes in the same spot then their fellow labelmates - Sick and downtuned Slam Death Metal.
The 5 track EP starts interesting with some indian vibes thrown into the intro song "The G.O.R.A Creatures". It really builds a nice atmopshere which you don't hear that often. Nice idea!
With "Operation Sepsis Torment" the band starts right away with sick blasting and slam break downs. Super guttural and nasty! The songs move between mid tempo groove slamming and fast blasts. It is a solid mixture between elements of the different expressions of Slam.
The edgy hook this band delivers is the atmosphere created which is always present. You really feel while listening that this kind of wrap around the song structure was important to create their own sound.
Also the ideas from different genres or rhythm arrangements is pretty cool. You always have at least one spot you can remind to in a song. Also the always loved sample of the movie "The Big Lebowsky" is used…"See what happens Larry…if you fuck a stranger in the ass!". Lovely to hear every time!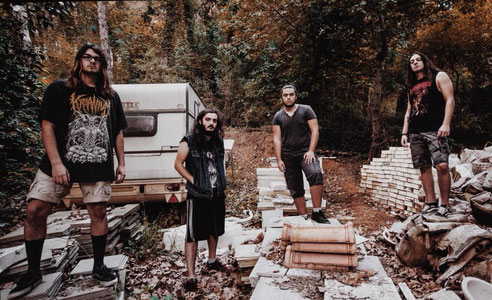 Summed up this is an interesting canditature from the band to enter the scene. Let's see how they will prove themselves with the first full length to come! I will definitly keep an eye on these guys!
7 / 10
Recommended for all fans of Kraanium, Pathology, Analepsy, Guttural Slug, Visceral Disgorge, Abominable Putridity, Cerebral Incubation, Gutfed, Pighead, Acranius and more…Cheers Zed
---
---
PARASITIC FERTILIZATION OF CRIMINAL SLAMOLOGY [OFFICIAL STREAM] (2018) SW EXCLusive