The south Italian Slamdozer Intracranial Purulency is back with another sick 5 track EP called "Interdimensional Escalation of Voracity". After their heavy and crushing debut "Eugenic Post-Coital Self Crucifixion", the band is ready to hit the scene again. With tighter and better production along precise slam songwriting.
Again released on the UK Label Rotten Music. The roster is continously growing. From the first riff on the opener "Ovulatting Teen Torture Fest" you directly know where this is going, a total SLAM devastation!
Ruthlessly and heavy as fuck they grind their way through the less then 20 minutes long record. The bigger sound wall helps a lot to deliver the heaviness to your ear tunnel. Every Slam fanatic will be forced to move in the pit!
On the title track "Interdimensional Escalation of Voracity" and "Rampaging Acrotomophiliac Perversion" they have support from Paolo Chito of Devangelic and Fiore Stravino of Fulci. Having their backs covered by two of the hottest bands in the italian underground makes this EP even cooler!
---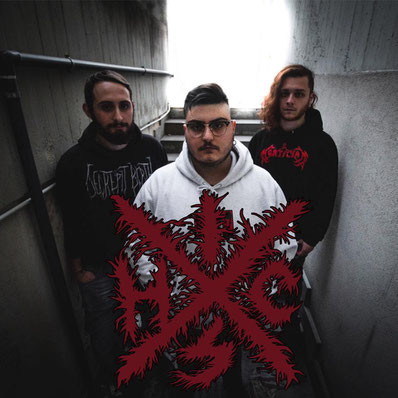 The third track "Antropophagic Addiction" is a remaster from a song from 2015. Summed everything together this is a real solid package no fan of this ultra guttural sound should miss out! Definitly a must listen and appetizer for the next full length.
Expect a perfect hybrid between russian slam monster Extermination Dismemberment and veterans Kraanium. They took everything they need from those and get it cooked by an italian chef. So for sure the end result is a delicious and self owned recipe!
If your mouth is watering already, don't hesitate to grab a copy from the band. You will not regret!!!
8,5 / 10! SLAM ON!!!
---
---
INTERDIMENSIONAL ESCALATION OF VORACITY (OFFICIAL EP STREAM 2020)