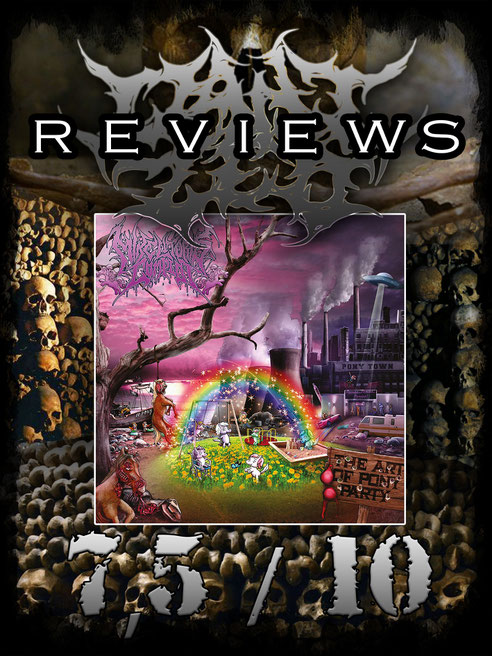 Welcome to Luxembourg pony land. Where fun and magic awaits you. The 6 piece band MIKE LITORIS COMPLOT presents along with Buppfeck Records after an little atmosphere building intro the colorful and dark sides of a fairy tail.
Expect nothing else than fun loaden umpa umpa Grind with a lots of groovy Gore, all spiced up with some juicy slam Death Metal. Opening track "Circus Slammy Granny" is showing it right away with its virtuoso song structure and changing from different gerne influences riff by riff.
The album is offering a lot of fun and besides the concept of just being silly there is some solid music under the hood. All the different elements combined bring a nice rainbow cocktail to make your head bang and your blood boil.
While listening to the tracks I couldn' resist to make comparisons in my head to czech grind bands like Psychotic Despair, Pigsty or Mincing Fury and Guttural Clamour of Queer Decay. You have this straight grindy groove in songs like "Bukkelkacke" to witch you just can bang your head or running in a circle at a show and the brutality of some slammy Death combined. The gory and groovy Grind has overtaken the sound for sure but there are more layers in the sound that you wouldn't think of at the first listening.
---
The band was already formed back in 2009 and had several line-up changes since then but for now completed as a six piece band just enjoying what they do. This was also very feelable while listening to this album. The musicians live the music they bring. It's always a nice attribut to have this feeling on an album. The passion and love for your own music. Not every band can that deliver.
The band also shared stages already with a lot of known names like Lividity, Wormrot or Razor Rape. Even they made the 4th place at a Luxembourg TV show what is like a Luxembourg's edition of America Got talent. I took that Info from the bands Facebook Page so I don't have any other proof my friends.
I just can tell you, if you like a decent groovy grind with a lots of gore, bree bree and ponies dancing on rainbows. This is your band. You will have a lot of fun listening to songs like "Harry Potter is Gay", "Disco Zombie Holocaust" or "Gangbang Abortion". Don't be offended just be silly and not a sissie pussy like most people are today. Enjoy the fun and be different in a good way!!!
I recommend this for the bands mentioned before but also for all grind fanatics and fans of Leng Tch'e, Rompeprop, Jig-Ai, Eardelete and others in the veign of.
Peace and Grind on!!! 7,5 / 10!
Cheers Zed
---
---
harry potter is gay
---
Nordic Rock Festival 2018
---
Mike Litoris Complot knows how to party in 1920