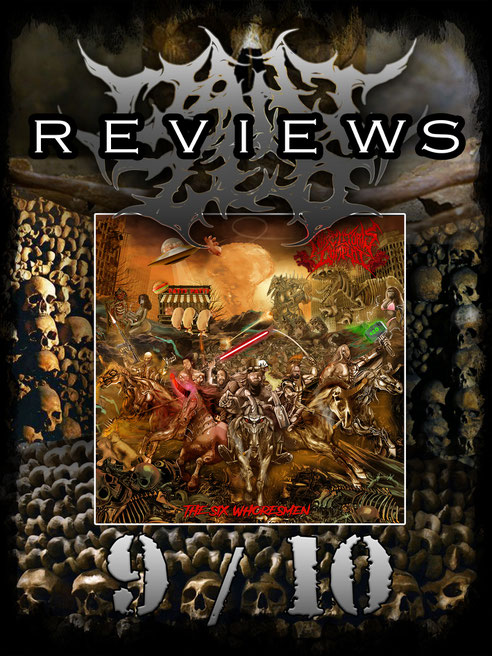 The Luxembourg fun grinding Brutal Slam Death outfit MIKE LITORIS COMPLOT is back with their newest record "The Six Whoresmen". As much fun as I had with the previous record "The Art of Pony Party", I was not prepared for this Apocalypse arriving. The Revelation of Smut, Gore and Party ripping apart the world by its balls and it's loving it!!!
Now with Rotten Roll Rex Records in their back, the band is ready to spread their party service around the globe. This will smash into the underground like an exploding unicorn pinata. Get cumshoted with glitter and confetti on this rollercoaster trip of black humor and thrashy pop culture social satire.
The band creates over the 19 tracks a great overall concept with the biggest amount of ideas pressed in. This isn't ment as a bad statement for an overloaded album as a kneeling for the big package presented. I had a couple of runs through the album so far and every time I discover more hints to the mentioned pop culture satire. Me as a 80s born kid I find a lot of references in the songs to loved movies from that era. Starting from Full Metal jacket, to Baywatch David Hasselhoff times to 90s dance music samples. 
---
As I said, this record is so packed with different aspects that it is nearly impossible to find every easter egg in the first spin. The level of humor is always kept as low as possible that it could even go skydiving in a cellar. If your sense of entertainment is black and filthy as mine you will enjoy the ride on this animal for sure!
Espect nothing else then groove, Slams, umpa umpa Gore, Blasts and a hell lot of fun. The band is here to decapitate the Excrematory Grindfuckers with all their might, take the head, gouge out the eyeballs and skullfuck them. If you get this eye blinking comparison you are the right person to enjoy all of the records beauty.
9 / 10 and grind on my friends!!! Grab a beer and listen!
At the end I also want to thank the band for trusting in me again for the second review of their material. You guys rule and I hope to have a beer with you on a show as soon as this Covid-19 shit is over!!!
Cheers Zed
---
---
THE SIX WHORESMEN [OFFICIAL ALBUM STREAM] (2020) SW EXCLUSIVE
---
The Art of Pony Party (Full Album)