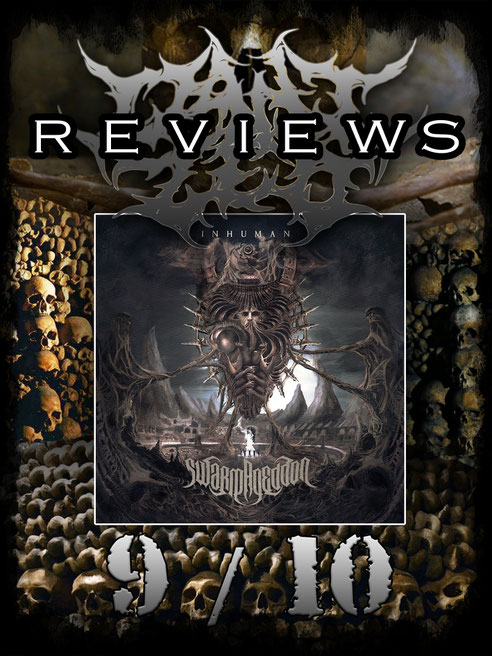 I received messages from two people asking to do a review for this french band balled SWARMAGEDDON. I thought it must be something good to be that pushed and expectant I was looking forward to hear the album "Inhuman"! This 5 piece, female fronted band is presenting a nice mixture of melodic Death Metal with a lot of harmony and different influences to combine it to a journey through ambience, darkness, brutality and lovely desperation.
The band was founded back in 2015 from the singer Marion and taking drive up from 2016 until now to present their first born antichrist called "Inhuman". As barbaric and beautiful at the same time this sounds, so is this album. SWARMAGEDDON's music is inspired by the melodic death metal of the 90s and by more modern bands such as The Human Abstract, Devin Townsend and Fallujah. The last sentence I took from the band's homepage to show you how they would describe their sound and I hope this will paint at least a little picture what you can expect.
There is much depth within the songs and thoughtful songwriting to combine all this different styles between chaotic mayhem and melancholic peace. The second song "Of a Billion Screams" is showing this inner conflict already. The song starts harsh and brutal in a more modern and Deathcore way to flow into a 90s melodic Metal passage with a lot of harmony and dreaminess. Ending up in an atmopsheric fairy tale.
---
This journey through different worlds told on stories within the 8 tracks you will experience all over in this record. It is a brutal back and forth of melody and ruthlessness tearing your emotions apart. So prepare yourself for an "Inhuman" trip to your inner explorer taking you on a travel you will not forget if you are brave enough to get involved!
Stop thinking in closets or building up any boundaries as Swarmageddon is tearing them down with their musical mixture anyway. A big Thank you to the band for this invitation. I really had pleasure on the party the whole night long!!!
9 / 10. "Die and Retry" - Out on October 3rd 2020 -  Cheers Zed
---
---
The One Above All [Official Video]
---
Blood Stained Origami [Official Lyric Video]
---
An Infinite Landscape [FULL EP]