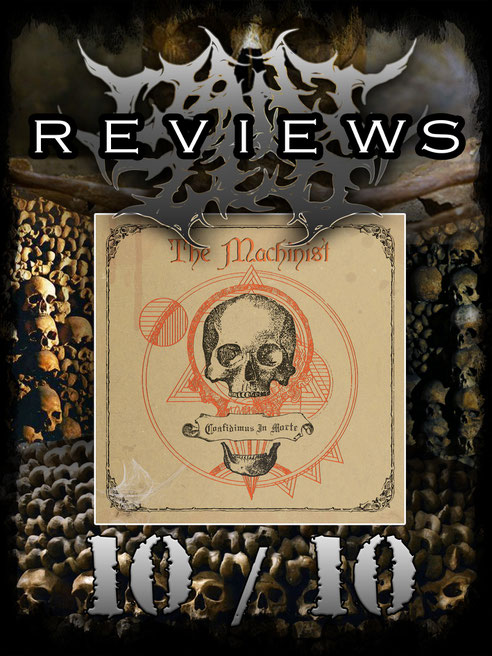 New York City based extreme metal outfit THE MACHINIST deliver their first full album. I was looking forward to this for a long time since I ordered their EP back in 2017 from them. Again to mentioned that they packed me in a Beanie for free because I had to wait a little longer for deliverey but stories beside and let's go back to the album.
Released was it on Prosthetic Records who brought us some decent stuff lately. If you haven't checked out the label, just do it and enjoy the roster.
The record called "Confidimus in Morte" contains 9 tracks of really variating and virtuoso extreme music. I don't want to use genre stamps like Deathcore because this band evolved so much from the EP to this album. They just busted their boundaries away with some dynamite to unleash their artistical abilities.
They are taking a lot from different extrem Metal genres and combine it to something on their own. Also Amanda busted away all her limitations in delivering vocals to a much wider range of extreme singing. Starting from clearer shouts, to barking, screaming, gutturals and also some nicely thrown in cleaner passages. Nothing you really expected to come but it did and it is just so awesome.
---
I was not sure about it when I heard the first single "No Peace" for the first time. The song structure was different, Amanda's vocals were different but it felt familiar at the same time. I also didn't expect the music video to be that brutal, haha. Sick shit and I guess Amanda felt like in an Evil Dead movie while shooting. Besides the video, the song was really a slow burner for me but after it ignited me, it became one of my favorite songs on the album. You can just feel the pure hatred and pain in this song going on. That touches me a lot when I am pissed or have to let loose some aggression.
The album starts also with the second single called "The Sound of Shame" which is also different then the first single and much straighter to your face but has a lot of depths inside to explore at the same time. Pure brutality but also fragility you can feel. Really something special going on here.
You can say that about every song on the album. Everything brings something special to check out. Even some Black Metal atmospheric songs like "Everything is Nothing". When the black metal drumming carpet starts and also the atmo riffing it could have been something Emperor created or Mayhem just the US way interpretated. 
---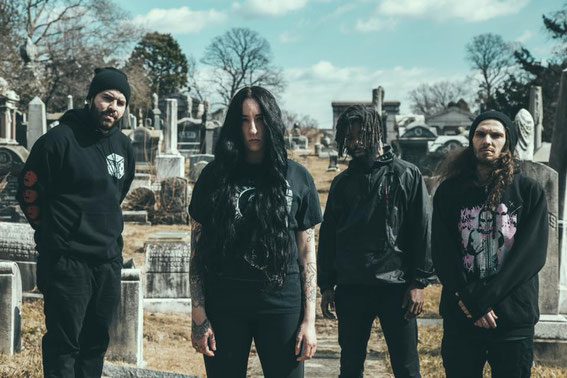 On the other side in songs like "Predatory" you have much more Deathcore high pitch screaming which is really aggressive and shatter your bones. So as you see the variation on the album is very outstanding and I didn't find every edge and hook until now. I guess I listened to the album already 6 times but I can't get enough so far. A great breakdown here and an awesome guitar solo there mixed up with great beats and rhythm while Amanda is screaming, gurgling, singing the shit out of her throat.
The band really created something special here you shouldn't miss out. One of the best albums of 2019 so far and I cannot wait what is about to come from these artists in the future. Hopefully a European Tour. I really want to catch them on stage.
Thank you for the emotional ride with "Confidimus in Morte"! All other fans of extreme and just awesome music you are invited to follow me!
10 / 10 for an evolution of a band! And they just started…
Cheers Zed
---
---
no peace
---
the sound of shame
---
sudden death