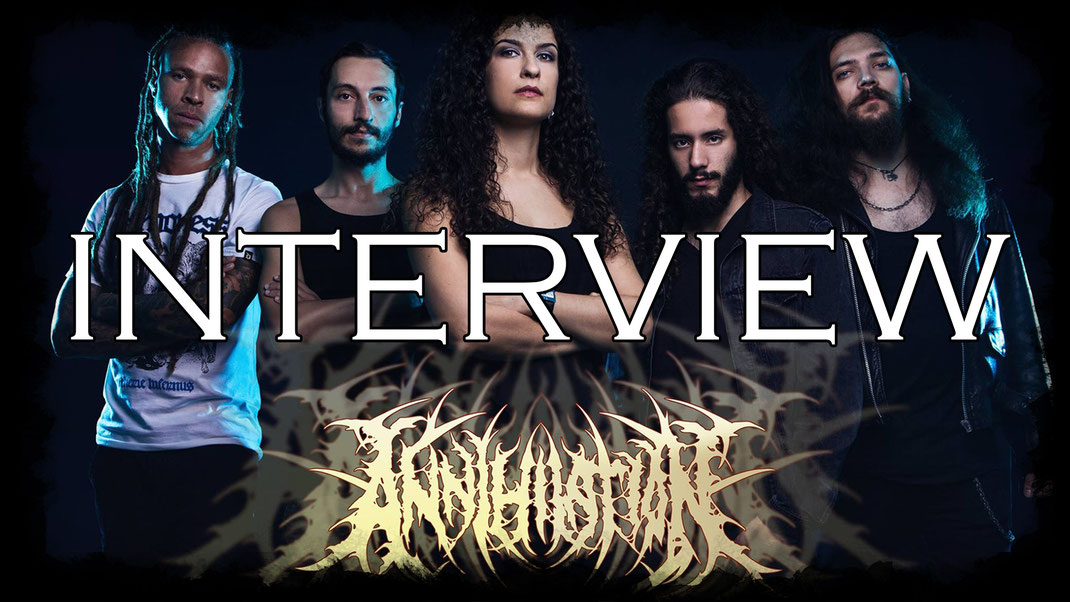 Hi and thank you first for accepting my interview request my friends!
A: Hi Dani, you´re welcome and thank you also for the the awesome review of our latest album and for this Interview!
---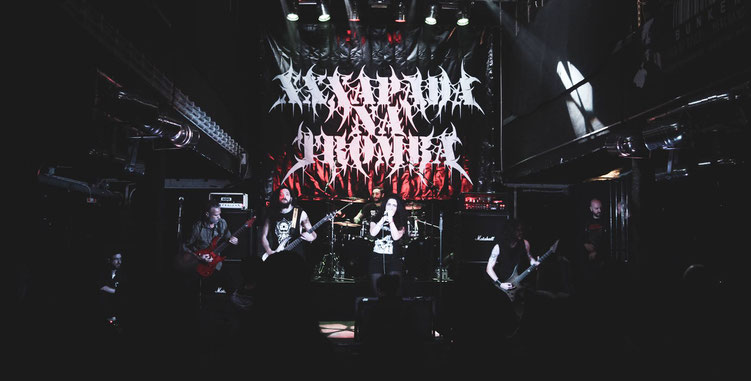 So how is the weather lately in Portugal and how was you appearance at the Xxxapada Festival in Lisbon?
A: The weather has been great, it has been a soft Winter that looked more like Spring. We are lucky to have such good weather in Portugal during almost all the time of the year. (At least for those who enjoy the Sun as much as I enjoy)
As for our show at this year´s Xxxapada Fest it went well, we were the opening band for the last day of the show and the venue was almost fully packed when we start playing .
I saw the full show. A friend send me the material. I was really sad that I couldn't be there. You changed from the 2017 album to now the singing duties to Sofia. When did you start working with her and how did that
start?
A: Well let´s hope you can have the chance to catch us live some other time, we are open to play shows abroad if the opportunity comes! As a matter of fact I´ve never intented to be the bands Vocalist and I´ve always struggled to find someone worthy to take my place. For the album I got Diogo Santana (Analepsy) and we both shared the vocal duties, after a while and since Diogo´s schedule with Analepsy was getting busier we decided to part ways.
During the time that I was looking again for a Vocalist, our good friend Pedro Pedra from Grog suggested Sofia. I already knew her work with Neoplasmah and thought that she could be a really good addition for the band. We then approached her and here we are now.
---
I think you guys and myself were satisfied with the review I wrote about your last album "The Undivided
Wholeness of all Things". Are you already in the writing process for a new one? If yes, when can we expect some new tunes?
A: We were really happy with your review, you really did a good job on that review and focused on all the important aspects of the album!
As for the new album I´ve finished writing all my guitar parts a couple of months ago, and me and my drummer have been at our studio rehearsing the new songs and tweaking them until we are happy with it.
During this process we started what we called a pre-pre-production of the new album, and we have been recording our rehearsals and sending the songs to the other band members so that they can learn them and start developing their own parts aswell.
Once their parts have been written, and if we all are happy with the results we will then advance to the final pre-prod stage. We would like to record the new album still this Summer, but we are in no rush.
Hopefully new tunes will emerge until the end of the year!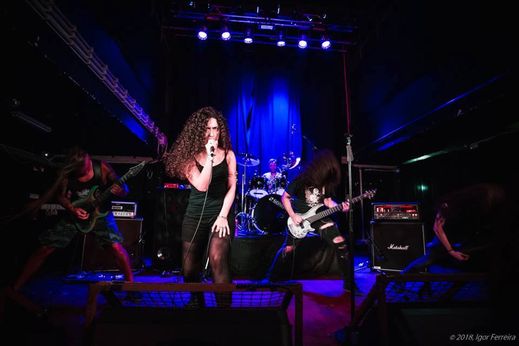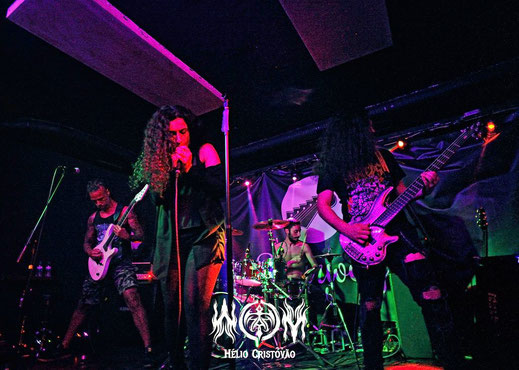 ---
When you started back in 2004, did you know from the first place how you want to sound like or did it come naturally while jamming? How did you guys come together? Maybe you can give a little throwback about the bands history?!
A: Well we wanted to write death metal songs that were inspired by the bands we liked back then (Morbid Angel, Cannibal Corpse, Behemoth, Death) our sound was developed by myself, writing the songs at home and bringing them to the studio so that the rest of the band members could contribute with their ideas and this is still the "formula" that we use to write songs.
So it was during the Summer of 2003 and I was working in the U.K. when I was asked by one of my best friends Pedro Monteiro (Drums) if I wanted to start a Death Metal band with him and Armando Barradas (Bass). They were in Portugal so the logistics were a bit complicated, also I didn't own a guitar nor I didn't know how to play one. Back then moving back to Portugal was also not on my plans, but the idea to start a band stuck in my head, so I decided to buy a guitar and started to learn by myself. In the end of 2003 I traveled to Mozambique for a bit of "soul searching" and took the guitar with me, I´ve spent 2 months in Mozambique clearing my head and practicing everyday, and in the beginning of 2004 traveled back to Portugal with 2 songs already written, I decided to stay in Portugal and give it a go and this is how the band was formed.
How did you start working with Vlad of Nice to Eat you Records / Fleshless and decided to release your
latest album on his label?
A: We were looking for a label to release "The Undivided Wholeness Of All Things" and it was due to a mutual friend Leopoldine Kalch whom provided me with Vlad´s contact. I sent him a message via Facebook, and he was really fast on his reply stating that he liked the album and he was interested on releasing it through his label Nice To Eat You Records.
---
There are always some sick underground fests going on in Lisbon. How would you describe the scene
there and overall in Portugal?
A: The scene in Portugal is getting bigger and stronger day by day, there are some good bands emerging from the Underground scene and getting more recognition abroad.
But it´s not just in Lisbon that we have sick festivals, there´s a good amount of Fests happening across all the country, Fests with more thatn 20 years like SWR Barroselas Metalfest for instance. Unfortunately for unknown reasons we are not invited to play as much as we would like too, let´s hope that situation changes with the upcoming events!
---
Do you have any bigger touring plans for 2019 that we can looking forward to in Europe or across the globe?
A: We would like to play some dates in Europe, particularly at Fests since you have the chance to play for a bigger audience, but we don´t have any dates booked so far. So if by any chance this interview reaches any promoters in Europe that would be interested in booking us, please come forward and contact us!
I know it is maybe an uncomfortable question but would you say getting a woman into the band to be in front helped you in some cases to push the band or don't you feel any change?
A: At this point it´s still premature to speak about the advantages it brought to the band, specially since Sofia didn't record the album. We are really happy to be working with her so far and we look forward to record the new album with her, and only by then we will be in a position to discuss the advantages of joining the ranks of Female Fronted Metal bands.
---
What would you say are the biggest influences in your music? How close was I in my review?
A: I think you nailed it on your review! The idea for the album was to be dark and dissonant, yet catchy and not too technical, and in order to get that vibe I "drink" from bands like Gorguts, Ulcerate and DeathSpell Omega, just to name a few.
But my influences come not only from music, but also from everyday experiences. I spent mostly all of my days at the Beach reading and listening to music, and I listen to a lot of music genres, 90% of my time is spent listening to music, so it´s easy for me to get inspired.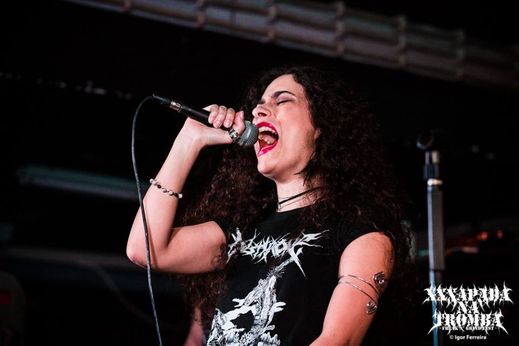 ---
Do you all have future goals you really want to achieve with ANNIHILATION? Anything we have to watch out for?
A: Well I think that one of our main goals is to be able to spread our music as far as possible. So in order for us to be able to do that we will continue on writing and recording albums for as long as possible.
We are used to get reviews from all over the World and that is important to us, since it means that some guy from Canada, or any other Country in the world had spent some of his time listening to us. Also we wouldn't mind to be able to play at some big Festivals throughout the World! 
Last words, like always in my Interviews, are on you. Something you want to share with the audience?
A: First We would like to thank you for this interview, and second We would like to appeal to all our fans around the World and to the people that enjoy our music to spread the word amongst your friends about Annihilation.
And if you are a promoter and would like to have us playing at your Festival or at your shows please drop us a message at our Facebook, or just send us an email!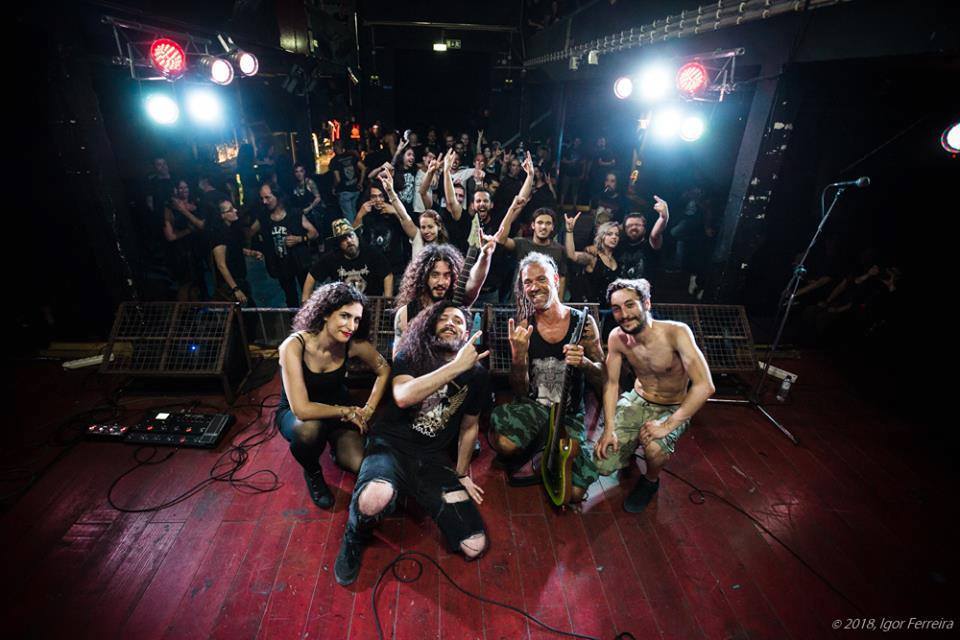 ---
---
Review for "The Undivided Wholeness of all Things"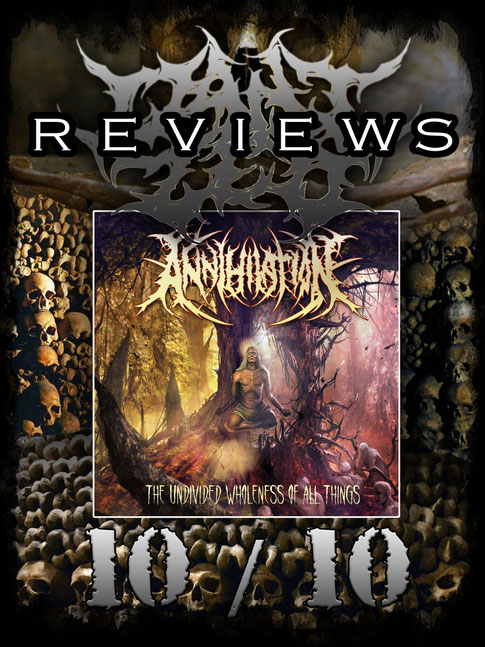 Annihilation - The Undivided Wholeness of all Things
Epic and darkened Death Metal is comming from the hot hells of Lisboa Portugal. Portugal a weapons wrought for secret and high quality Death Metal hints is also delivering us this gem. The sharp sword is called Annihilation and they unleash it's brutality with the album "The Undivided Wholeness of all Things".
Released on Nice to Eat you Records from Czech republic and also Amputated Veign for Asia region.
The band was already founded back in 2004 and has a debut album called "Against The Storm" and a digital Ep "The Undivided" in their disco and released the mentioned album here in 2017. Maybe a late review from my site but it is never to late to talk about great and massive music. Massive describes this album perfectly. It has a wide and epic range of oldschool death metal from the atmosphere and a lot of technical detailed musical parts from newer era to create a perfect hybrid of modern, darkened death metal without losing the wibe of oldschool, depressing darkness.
It all starts with...
For full Review click on picture or button below.